This 3-In-1 Kids' Bike Goes From Balance To Pedal As They Grow Up
One 2-wheeler to rule them all.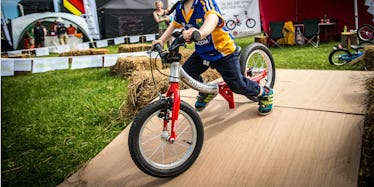 Clothes, car seats, your jokes – kids outgrow stuff pretty damn quickly. And while it's one thing to buy new shoes every other week (99th percentile in foot size, really?), it's quite another to replace a big-ticket item like a bike after only a year. With the Irish bike company, LittleBig, you don't have to – a few simple tweaks and you can adjust it as Little Cillian grows.
Essentially, the LittleBig is an adjustable two-wheeler for ages 2 to 7 that's been designed to take the place of your kid's first 3 bikes. It starts as a small balance bicycle (14-inch height for 2-3 years old) that helps your kid to stay upright without pedals or training wheels to get in the way. When their feet start hitting the ground, you can rotate the back of the aluminum frame in about 20 minutes and the bike grows by 4 inches (18-inches for 3-5 years old). That's step two. And finally, when riding Fred Flintstone-style has gone out of vogue, attach the crank and pedals and the LittleBig becomes a traditional kids' bike (for kids 5-7 years old) that they can ride straight past that local bike shop.
The whole deal is lighter than your child, weighing between 11 and 14.5 lbs (with pedals) and is easy enough to throw in a trunk rather than a roof rack. It also includes front and rear brakes (because more brakes = less rolling uncontrollably through traffic) and comes tricked out with a pivotal saddle, riser handlebars, and a forged-alloy BMX-style stem, among other fancy bike accountments that will let them hang with the big boys and girls.
This article was originally published on