This Tiny Tow-Behind That Sleeps Three Is The Ultimate Summer Camping Upgrade
The Little Guy MyPod weighs only 630 pounds and tows behind even the smallest of cars.
by Dave Baldwin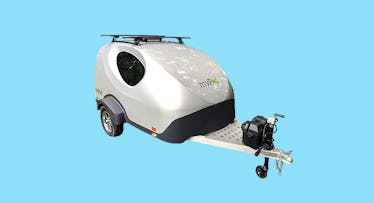 When it comes to family camping, there are two schools of thought: Kids should rough it in a tent and experience nature sans creature comforts. Or, the more comfortable you can make the trip ⏤ be it with trailer, cabin, or rooftop tent ⏤ the more likely they are to enjoy the great outdoors and want to camp again. Who knows which strategy is more effective in raising camping kids, but for the outdoorsy parents who want to split the difference, there's the MyPod.
The smallest in Ohio-based Little Guy Trailers trifecta of handsome tow-behinds, the MyPod weighs only 630 pounds and can be hauled by any standard four-cylinder vehicle. It's made entirely of molded fiberglass, sits on an ultra-lightweight aluminum frame and alloy wheels, and runs 11.5 feet in length from hitch to fender. Most of that length, by the way, is the full-sized mattress, which measures 52-inches by 76-inches and can sleep two adults with a small child. And while there's not a ton of move-around room inside the MyPod ⏤ the bed takes up most of the interior ⏤ the space is both well-lit thanks to three big windows (shades included) and well cooled, compliments of a three-speed fan and full A/C unit. It's also well entertained, courtesy of to 12v/110V power (with a solar upgrade option), a large flat-screen panel, and a built-in entertainment system. So rainy days can involve more than just playing cards or board games.
That said, the interior can also be expanded by attaching a 5'x7′ screen room tent (with a sewn-in floor) to the back door. It's sold separately and runs $420, but it's a nice way to sleep more people with bags or an inflatable mattress. See, the kids can rough it after all. The 2018 version can also now accommodate a Yakima roof rack on top for bikes or kayaks. The MyPod starts just north of $11k (so easily add it to the list of cool trailers under 20 grand) and comes in one of five colors ⏤ white, silver, black, blue, or red.
Every product on Fatherly is independently selected by our editors, writers, and experts. If you click a link on our site and buy something, we may earn an affiliate commission.
This article was originally published on