8 Legitimately Funny Baby Onesies
There's no better way to turn your tiny human into a tiny jokester.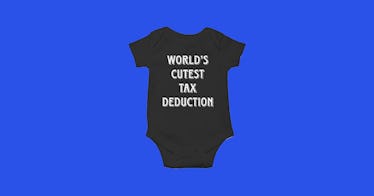 The onesie is more than just a smart outfit. It's the ironic t-shirt of the infant world, a way for parents to express their sense of humor through their wriggling child who can't even say "irony" much less understand that their outfit is a vector for it. Whether you're a new dad looking to up your game or want to surprise a buddy with a funny outfit for their new child, there are a lot of funny baby onesies out there.
Unfortunately, quantity does not necessarily beget quality. The Internet being the Internet, many "funny" onesies are profane, imply men are by definition incompetent caretakers, or lean a bit too heavily on the comedic value of poop. So to make the selection process easier for you, we found eight actually funny infant onesies that let you take advantage of the comedic potential of your baby's wardrobe.
8 Legitimately Funny Baby Onesies
Every product on Fatherly is independently selected by our editors, writers, and experts. If you click a link on our site and buy something, we may earn an affiliate commission.
This article was originally published on