The Light Phone II Wants to Make You Better
It lets you call and text, and looks cool, which all you really need.
by Jon Gugala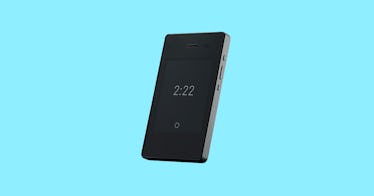 In these days of compulsive social media scrolling, email refreshing, and COVID-19 news updating, most of us are on our phones a bit more than we really want to be. Here to save us from ourselves and our over-connected online lives is the Light Phone II, an elevated offering in the so-called "dumb phone" product space.
Billed as "the phone that actually respects you," this second iteration of the Light Phone is designed to give you back some of your time and attention. It's incompatible with apps that have anything resembling a feed (email, social media, YouTube). What you can do with it is what some would argue is all you need to do: receive and make text messages and calls from your imported contacts, use a calculator, set alarms, and use it as a hotspot. (The company is developing tools to enable users to play music or hail a cab.) In partially disconnecting you from your digital world and its distractions, the idea goes, it can help you simplify your life.
Unlike the first Light Phone, which was a pared-down phone designed to be a secondary, feature-free device, the update includes a few more bells and whistles so that you can use it as your primary — and potentially only — device. Imagine a life without push notifications, invasive ads, and constant headlines. It's like a mental detox. Alternatively, it can still be used as a secondary device if you want to balance out your desire to be present with your need to update your socials.
If you have T-Mobile, Verizon, or AT&T service, you can switch the SIM card from your smartphone to the Light Phone II and you're all set (the phone runs on 4G LTE connectivity). For others, you can subscribe for service through Light itself for a low monthly fee, though your Light Phone will have a different phone number from the one on your primary device. Note that the Light Phone II is an unlocked phone and ships to you without a SIM card.
In never serving up feeds, social media, ads, news, or email, the phone effectively discourages you from using it. That frees parents up to, well, talk to our kids. Or read a book. Or take a walk without being tethered to Instagram. By short-circuiting your screen time through the Light Phone II, you can focus on being present with your partner and children right now. Which is truly a bright idea.
Every product on Fatherly is independently selected by our editors, writers, and experts. If you click a link on our site and buy something, we may earn an affiliate commission.
This article was originally published on