How to Use Libby to Stream Free Audiobooks for Kids
Your local library probably maintains a huge library of ebooks and audiobooks online. Here's how to access it with Libby, a free app.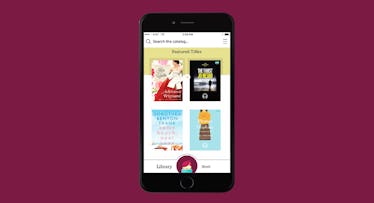 Even the best road trips are a chorus of chaos. If the kids aren't bickering in the back, then you get stuck in traffic. If there's no traffic, someone has to pee. If no one has to pee, you take a wrong turn. Or, if you're really lucky, you get to experience all of the above. One of the modern saving graces of family road trips is the audio book. Now, thanks to Libby, an app that gives you access to thousands of audiobook titles for free, it's easier to load up your family favorites.
Simply, Libby is a smartphone app that lets you check out ebooks and audiobooks through libraries. It's made by OverDrive, a digital content distribution system used by 40,000 libraries and schools in 70 countries including, probably, your local library. Here's how to set it up to make your next family trip much more bearable.
Step 1: Download Libby and Connect to Your Library Account
Go to the app store of your choice (iOS, Android, or Windows 10+) and download Libby. You'll be greeted with a series of prompts. Answer "yes" to the first question: Do you have a library card? If you don't, get one ASAP and come back to the app.
On the next screen, first-time Libby users can either search for their library by name or let the app guess their library by location. Use either tool to find yours.
If you or your kids have a Kindle you can have eBooks delivered to it, which you can set up on the next screen. If you don't or are mainly interested in audiobooks, select "I'll Mostly Read In Libby."
Next, you'll need to enter your library card information, usually the same barcode number and PIN you use to log in directly to its own catalog. You can also use a Facebook or OverDrive log-in you've previously connected to your library account.
Step 2: Find and Check Out Materials
Congratulations, you're in! Libby contains several tools to navigate its expansive content library. There's a standard search bar at the top of the screen if you already have an idea of what you're looking for. If you'd rather browse, you should tap Preferences on the home screen to reveal a list of browsing options. Of particular use for parents is the audience setting; for kids, stick with juvenile or young adult depending on their age.
You can read or listen to a sample of any item on its page regardless of its current availability, which brings us to an important point. Even though they are digital, materials on Libby are not unlimited. Just like physical books and audiobooks, your library has access to a finite number of copies. For popular titles, you may need to place holds and wait in line for them to become available. Libby will give you an estimated wait time until the materials become available.
Each entry for a particular item contains standard information–author, series, narrator, publisher, etc.–and allows you to tap any of that information to see other items that share that particular attribute. If a particular item isn't available when you need it, this is a great way to find something similar.
Step 3: Manage and Play Your Titles
Once you check out an audiobook, you'll have the option of playing it right then and there. To access it later, tap the Shelf button on the bottom right corner of the screen. Once you're in the Shelf (as opposed to the Library, where you find items to check out), you can see your current loans and holds, any tags you've added to materials, and a log of your activity.
Click on any audiobook title in your loans section and the player interface opens. There are buttons at the top of the screen that let you adjust reading speed, set a sleep timer, and create a bookmark. You can select a chapter, see your playback history, and find tips for using the app in the menu on the upper-right corner of the screen. Once you're playing you can tap the cover of the book for a simplified interface: cover art, chapter name, and three buttons to control playback.
We recommend scoping out some titles your kids will enjoy well in advance of your next road trip, just in case they aren't immediately available. Once you hit the road, you'll be thankful to have a distraction that can eat up the hours in between rest stops and make the drive safer and smoother for the whole family.