This Portable Laser Projector Is So Bright You Don't Need To Dim The Lights
Movie night during the day?
by Dave Baldwin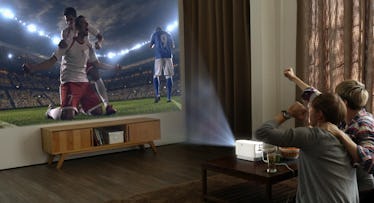 Sure, the Cinemood projector your kids use to watch Frozen on their bedroom wall is swell and all (no complaints), but sometimes you need a little more firepower for the big birthday sleepover. Enter: the new LG ProBeam projector.
Dropped this month at the 2017 Consumer Electronics Show, the ProBeam projector is parent-perfect for two reasons: First, it weighs just north of 4.5 pounds and easily fits in your hand. So, while not Cinemood small, still uber-portable. Which means you can tote it around the house, to backyard movie night, or on the big summer car camping adventure in your new Skycamp rooftop tent. Second, it uses lasers to throw 2,000 lumens of brightness and full HD (1080p) images up on the wall. So there's no need to dim the lights if anybody's scared of the dark — or you want to watch Westworld in a room without blackout shades.
Weirdly, LG hasn't said how large the screen projects, but it's safe to assume 100-inches — which is at least as large as their other models. The ProBeam projector runs LG's webOS operating system and functions as a smart TV, uses Miracast to stream "What Does The Fox Say?" and other "hilarious" Internet content from your smartphone, and comes with LG's Magic Remote Control for easy navigation. Oh, and thankfully, it also uses Bluetooth to pair with external speakers or headphones so you don't have to listen to "Let It Go" all. Day. Long.
This article was originally published on