Meet the First-Ever Lego Lamborghini: The Sián FKP 37
The Lego Technic Sián FKP 37 is a must-buy for car- and Lego-lovers alike.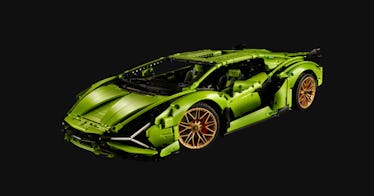 The Lamborghini Sián FKP 37 is an 807-horsepower supercar that is the premium automaker's first attempt at a hybrid. But even if you have enough money lying around to cover its $2 million price tag, you can't buy one of these beauties. All 63 of the units that will be produced have already been snatched up by other rich people. But it's not all bad news.
You still have a chance to get the next best thing, the Lego Technic Lamborghini Sián FKP 37, a shockingly detailed model of the real thing that's just 0.019 percent of the price. What a bargain!
The 3,696 pieces assemble into a 1/8 scale model of the real deal, a nearly 2-foot-long, 9-inch wide model that will fit nicely on a bookshelf. It's an impressively detailed design, featuring moving pistons in the V12 engine, scissor doors that open and close, an eight-speed working gearbox, and a moveable spoiler.
The lime-green paint job and copper-colored wheels are also true to the original's aesthetic, the latest in a long line of always flashy — often tacky — paint colors used by the luxury automaker. There's even a Lamborghini overnight bag that fits perfectly in the trunk, because why the hell not?
Lego has designed intricate sets with carmakers like Bugatti and Aston Martin before. It's also released a few sub-1,000-piece Lamborghinis in the past. the Sián FKP 37 is the first time the toymaker has worked with the automaker on one of its premium sets, making it the first Lamborghini building kit designed with the intricate sophistication synonymous with the brand.
That partially explains how this set has become such a hot commodity already. There was a monthlong backorder hours after its official release, and bids as high as $510 on eBay at the time of this writing.
There are few better quarantine activities that a serious Lego build, which is like a puzzle with a much more satisfying conclusion. If you're a car guy and/or a Lego guy with a lot of time on your hands, this set is definitely worth your while. Our advice: order it soon, because we're not sure how much longer these will be around.
Every product on Fatherly is independently selected by our editors, writers, and experts. If you click a link on our site and buy something, we may earn an affiliate commission.