The Best Lego Storage and Organizers for Keeping Bricks in Check
Because losing a key piece mid-build really, really sucks.
by Donna Freydkin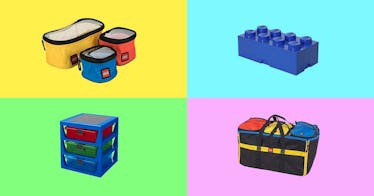 At a certain age, kids become obsessed with all things Lego. It is inevitable, and there's no fighting it. But while you're powerless to this phenomena, you're not at the mercy of a cluttered living space and treacherous walkway. Your solution is Lego storage, a cottage industry that has sprung up to aid ailing parents who have seen the Lego dump truck back up to their homes and disgorge a load of sharp-cornered bricks and brightly colored minifigures. The best Lego storage solutions are easy for both you and your child, while the furniture provides a wide area on which to build. Granted, none are going to end up on the pages of Architectural Digest, but they will save your sanity and protect your feet. Those two combined are worth at least the cost of a few Harry Potter kits.
The Best Lego Storage Boxes and Bins
The Best Lego Organizer Tables
Every product on Fatherly is independently selected by our editors, writers, and experts. If you click a link on our site and buy something, we may earn an affiliate commission.
This article was originally published on