How to Buy the Old School LEGO Sets You Loved As a Kid
Don't settle for what's in the stores!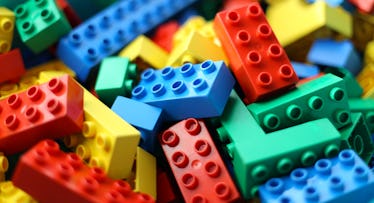 LEGO bricks are as close to futureproof as toys get. You can take a brick made for the 1968 model "European Taxi" and snap it onto one made for Hagrid's Hut, a set produced in 2001. Part of the fun of collecting LEGOs is making your own creations, and the fact that all of the pieces fit together and come apart easily across generations makes that kind of creative play possible.
Where the world of LEGO has changed over the years is in the themes and sets that are being produced. Part of this churn is the natural limitations of the company; there are only so many sets that can be produced at a given time, and there is a moneymaking imperative to always be designing and selling something new.
So what is an AFOL–an adult fan of LEGO–to do if he wants to recreate a treasured childhood memory of a specific set? Vibrant online LEGO communities led to vibrant online secondary markets, so the properly-motivated fan, with some digging and some cash, can find the set of their dreams.
Used Sets
Discontinued sets in new and used condition can be found at the usual corners of the internet: Amazon, eBay, etc. Another place to check is Catawiki, a Holland-based auction site with a resident LEGO expert and weekly LEGO auctions. However, the most useful site for finding specific out-of-production LEGO sets is Bricklink.
The amount of information on Bricklink can be overwhelming. Most casual LEGO fans won't need to know the 4,183 sets a 1 x 2 brick appears in. On the other hand, the comprehensiveness of the information stored on Bricklink means that the answers you are looking for are almost certainly there.
Bricklink allows you to search for sets by keyword, item number, category, release year, and a number of parts. You can also look at all of the sets within a given theme, a useful feature if you're trying to create a more elaborate LEGO world.
Once you've found the set you want to buy you can look at listings from sellers around the world that list details about the condition of their specific sets, shipping costs, and their selling history on Bricklink.
One of the best features of the site is the price guide, which will show you information about the versions of a specific set currently for sale and sales from the past six months. It's a useful way to make sure you're not getting ripped off. Keep in mind that factors like missing or damaged pieces, boxes and instructions can result in wildly different prices for the same set.
If you find a set that is missing instructions, you can check the Peeron Instruction and Catalog Scans Library to see if a scan is available.
Individual Pieces
Maybe you still have a set from your childhood, but when you try to put it together you realize there's a missing piece. Maybe you bought a set online knowing that it was missing a piece. Maybe you just want to buy more Stormtroopers for the Star Wars universe you're constructing in your basement.
No matter the reason, there are also ways to buy individual pieces online. Like LEGO sets, each piece has its own number, known as an element/design number. The official LEGO website is a good place to start ordering replacement parts. It's probably the most hassle-free way to get parts, but specific parts, particularly those that are less common, are often unavailable.
To find the specific piece you need, search the LEGO replacement parts site for your set. Once you find it you will see a list of the pieces that come with that set and a button indicating whether or not LEGO has that piece in stock. For more flexible sorting and searching options you can also search the parts database at Brickset, which pulls its information directly from the LEGO database.
If the official LEGO replacement parts service doesn't have a piece you need, or you just want to try to get a better price, then your next stop should be BrickLink. Search for the element/design number you need to see if it's for sale. The pages for buying individual pieces are nearly identical to those for buying entire sets.
Most individual pieces cost a few cents, but most sellers require minimum purchases to make it worth their while to ship you something. Think of this as a good excuse to look through their inventory and snatch up any pieces you think are interesting on their own or might be useful in the future.
Re-Released Sets
By far the easiest way to recreate the LEGO experiences of your youth is to purchase a re-released set. Unfortunately, according to the well-maintained Brickset database, only 46 LEGO sets have been re-released out of the 15,023 total in the system. Only eight of those were re-released in the past decade.
Re-released sets of late have tended to be massive, likely targeted at the serious AFOL audience. Last year's sole re-release, the Taj Mahal, was the second-largest set ever released at 5,923 pieces. The only re-release in 2016 was the Death Star, which clocked in at 4,016 pieces.
According to the founder of Brickset, Huw Millington, the period of LEGO history that saw the most re-releases, the early 2000s, was also the time in which the company was in dire financial straits. Executives were likely trying to fill gaps in the product lineup cheaply by re-releasing old sets.
Today, LEGO is in much better financial shape. Re-releases are less common and much larger sets that, due to their increased level of difficulty and higher prices, are likely aimed at AFOLs, a market that grew, according to Millington, after the release of The LEGO Movie in 2014.
A final word of advice: if you find yourself struggling to find the exact set or piece you need, don't be afraid to reach out the the AFOL community. Like the best internet subcultures, it's a group of passionate, like-minded people who are generally willing to help however they can. The plethora of comprehensive, meticulously maintained online LEGO resources is a testament to that quality of their community.
This article was originally published on