Lego Is Releasing New Y-Wing Starfighter Ultimate Collector Edition
The new release is 1,967 pieces. And yeah, it comes with its own R2-BHD astromech droid.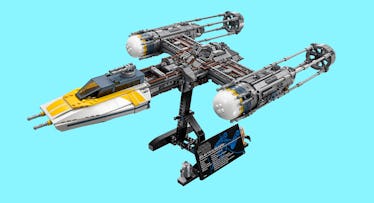 LEGO
While Lego's busy rolling out amazing new sets for the upcoming Solo: A Star Wars Story, they haven't forgotten t the original trilogy. The new 1,967-piece UCS 75181 Y-wing Starfighter brings the classic spaceship from A New Hope back in awesome brick form as the newest addition to Lego Star Wars' Ultimate Collector Series.
X-Wings get a lot of the love. But the ships named after the second-to-last letter of the alphabet deserve some respect, too. Lezt we forget, the Y-Wing flew in the first dangerous run down the Death Star trench. Lego's new set preserves all of the clunky but formidable spaceship's stunning detail from the film, including a Gold Leader minifigure and a R2-BHD droid for the cockpit. It's made of 1,967 pieces, which, while it doesn't even come close to beating out Lego's massive 7,500-piece Millennium Falcon, is still impressive. As part of the Ultimate Collector Series, it even comes with a tilting display stand and informational fact plaque to reward the effort of assembling all those pieces.
Other details include Gold Leader's blaster pistol, wheel-activated rotating ion cannons on top, retractable landing skids, and space for the aforementioned R2-BHD astromech droid. Mounted on a stand, the model measures over 9 inches high, 24 inches long, and eleven inches wide, and the best part is that Lego's releasing it at the perfect time: The Y-wing Starfighter will hit shelves on May 4th to celebrate Star Wars Day.
Along with all of the new, awesome sets being released for Solo: A Star Wars Story on April 20, fans should be busy with bricks for some time. The Y-Wing is not yet available for pre-order, but it'll go on sale for $200.
This article was originally published on