This Apollo Saturn V Rocket Is LEGO's Tallest Toy Ever
The Apollo Saturn V is one giant step for LEGO mankind.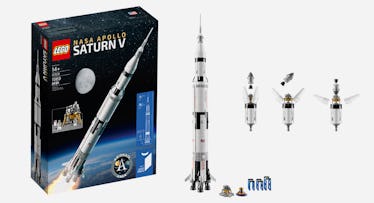 Lego is going all-in on space travel this year. After unveiling a new Shuttle Explorer, a historic set of women in NASA microfigs, and a sweet Jekku Quadjumper from The Force Awakens at Toy Fair, the company recently announced it's launching a 1/110th-scale replica of the Apollo Saturn V rocket, and it lands in stores on June 1.
Based on the first rocket to put astronauts on the moon, the 1,969-piece Lego Saturn V Rocket (a hat tip to the year of the moon landing) stands more than three feet tall and is LEGO's largest toy to date. Like the real thing, it comes in three sections ⏤ one for each rocket stage of the mission ⏤ and can be displayed either horizontally on the fireplace mantle or standing ready to launch in the middle of the living room. The Eagle Lunar Lander and command service module are both built into the rocket and three minifig astronauts should make recreating the lunar landing in stop motion all the more realistic.
The Lego Saturn V is part of Lego's community-driven Ideas incubator program, where builders submit designs and fans vote. It was proposed last year and received more than 10,000 votes. Ultimately Lego decided to mass produce the rocket because, duh. It will retail for $119 starting next month. And that price, there's little doubt that it will take off.