'LEGO Movie 2' Inspires Massive Postapocalyptic Playset
Everything about this set is awesome.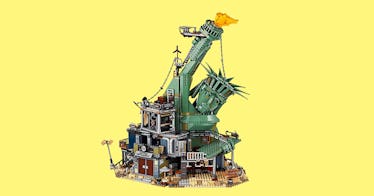 A toy based on a movie based on a toy isn't the kind of thing that would normally get us very excited. Unless, of course, that toy is a 3,178-piece Lego set and that movie is the hotly anticipated The Lego Movie 2: The Second Part. The film features the invasion, destruction, and occupation of Bricksburg by Lego Duplo invaders. The set shows how your favorite Bricksburgians live under the occupation.
In an homage to Planet of the Apes, the set is a 20-inch tall Statue of Liberty head that Emmett, Lucy, and the rest of the gang from the first film repurposed after the invasion. It's a modular set, with sections that can be removed for easy play. Rooms include a café, Lucy's hideout, Fuse's workshop, and a rooftop diner, among others.
While its scale is impressive, where this set really shines is its attention to detail. The armory has two buildable weapons. Lucy's hideout has a secret compartment, complete with a love letter from Batman, and barbed wire, a brand new Lego element. The diner has a deep fat fryer powered by a V8 engine and ketchup and mustard dispensers. Every room has these touches, so there's plenty of fun to be had with the set even after the build is over.
The set also comes with 12 new for 2019 minifigures, from stalwarts like Emmet and Lucy to comic book characters Batman, Harley Quinn, and Green Lantern. There are also quirkier figures, from Chainsaw Dave to "Where are my pants?" Guy, that are new to the series. We're definitely curious to see these characters on the big screen.
We'll have to wait until February 8 to see the movie in theatres, but you can get your hands on "Welcome to Apocalypseburg!", the biggest Lego Movie 2 set around, on January 16.