There's a LEGO Version of James Bond's Aston Martin and Yes, It Has An Ejector Seat
The 1,295-piece model features many of the iconic features of the car as seen in the films. Q would approve.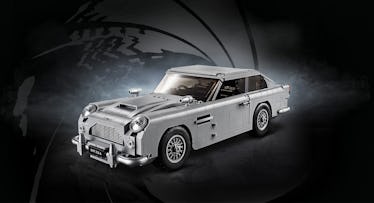 LEGO
Pay attention 007! After designing models as varied as NASA scientists, Mack Trucks and Jurassic Park dinosaurs, LEGO is making its first foray into the world of 007 with set 10262, James Bond Aston Martin DB5.
The 1964 British sports car is the most iconic symbol of the 56-year-old film franchise with the possible exceptions of its theme music, casual misogyny and watery martinis. It made its first appearance in Goldfinger but was also seen in Thunderball, Goldeneye, Casino Royale and Skyfall.
The 1,295-piece model includes the distinctive features of the original car: wire wheels, chrome bumpers, and a straight-six engine. It does an admirable (if not quite a perfect) job of translating the sleek lines of the DB5 to the LEGO medium, but where it really excels is in its recreation of the modifications cooked up in Q's lab.
The rotating license plate displays the registration numbers seen in Goldfinger along with "JB-007." There's a telephone hidden in the driver's door and a radar tracker in the dashboard. Twisting the exhaust extends a bullet shield over the rear window. Moving the shifter causes machine guns to pop out from under the headlights, and, while not automatic, tire scythes can be attached to the wheels (and stored in the trunk when not in use).
But the killer feature of the car in its film and LEGO forms is its ejector seat. Pulling on the rear bumper causes the roof on the left side of the car to flip open and the seat inside to pop up and out of the car.
The model sadly and bizarrely does not come with a James Bond Minifigure, but Bond fans will find plenty to love in the set's emphasis on gadgetry. They'll also appreciate the instruction booklet that is made to look like a dossier with "For Your Eyes Only" printed on the front.
The LEGO version of the DB5 measures three inches high, four inches wide and 13 inches long. It is part of the Creator Expert Line, which means it's a larger, complicated model meant for advanced builders over age 16. LEGO VIP members can purchase the model for $150 starting today. It will be available to everyone on August 1. Let's hope that, like the James Bond movies, there are more LEGO sets in the franchise to come.
Every product on Fatherly is independently selected by our editors, writers, and experts. If you click a link on our site and buy something, we may earn an affiliate commission.