Lego's New Roller Coaster Is 4,120-Pieces of Gravity-Propelled Fun
by Dave Baldwin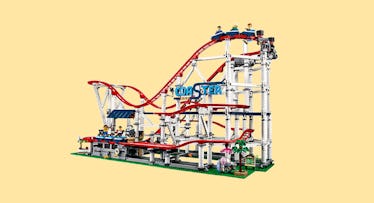 Lego has never gone big on amusement park sets. They sell only a handful of rides under the Lego Friends brand ⏤ including bumper cars, a Ferris wheel, and a pretty rink dink roller coaster ⏤ and even some of those are already retired. If a brick enthusiast wants to get their hands on a working roller coaster, they have to improvise or look elsewhere. Namely, to CoasterDynamix's awesome working replica of the Cyclone from Coney Island.
Well, that's about to change. As of today, Lego Creator is now selling the Expert 10261 Roller Coaster set, a 4,120-piece fully functional chain lift coaster that stands almost 2-feet high and comes complete with a ticket booth and covered boarding station. It's equipped with 44-pieces of track, two gravity-powered trains with low-friction wheels (each with three cars), and 11 minifigs, including five riders with "reversible heads to display different emotions." It also comes with other amusement park accouterments like a cotton candy cart, concession stand, fountain as well as the appropriate minifigs to run them.
Cooler still, the set complements the 10257 Lego Creator Expert Carousel and is totally upgradeable with Lego Power Functions or Lego Boost. So you could add a motorized chain lift, automated lift activation, and even realistic sound effects ⏤ enough to almost charge admission. The new Roller Coaster isn't yet available for pre-order but will cost $380 when it hits stores on May 16.