Totally Practical Things To Build With All Those Extra Legos You Have Laying Around
by Alison Zeidman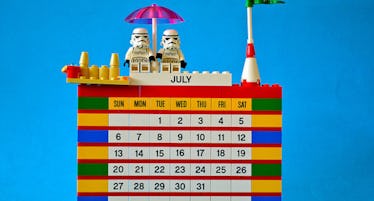 steppingsidewayswithbricks.wordpress.com
Legos are some of the best toys in the world for developing kids' creativity, problem-solving skills, and imagination … at least up until the point they realize they've the lost the ONE brick they needed to complete the Lego Death Star that's taken over your living room all day. But the good thing about Legos: No rules, man. Instead of pulling a Darth Vader and destroying the galaxy (re: playroom), your kid can save up those random Lego pieces that never quite got turned into anything, and create something all their own. Or, if your kid's a little more results-oriented than their peers who build janky castles and lopsided spaceships (not saying your kid's uptight, but that Death Star has a LOT of instructions), here are some of the most practical Lego building ideas available on the Internet.
Lego Knife Stand
Normally, you wouldn't let your kid play with knives. But hey, sometimes you bend the rules a bit. Especially when the alternative is dropping $100-plus at Williams Sonoma on a knife block made out of some type of wood you've never even heard of.
Lego Charging Station
One way to cut down on all of the USB cords and chargers getting mixed up and tangled around the house is to load them up in this Lego charging dock, color coded so you'll never forget which charger is which. Your kid will gladly accept your thanks in the form of bonus technology time on your freshly charged devices.
Via Buzzfeed/instructables.com
Lego Lamp Shade
Your kid can fight their fear of the dark with their own 2 fists … full of Lego bricks. They can use their own color and pattern combinations, but just make sure they remember to leave spaces for the light to actually shine through. Otherwise, they're just making an unfinished box.
Lego Safe
Why would a kid need a safe? No idea. Say, apropos of nothing at all, what happened to all of your kid's Reese's cups in last year's trick-or-treat haul?
Lego Set Of Coasters
If there's one thing kids hate, it's rings on the wood coffee table. Or maybe that's just you projecting. Either way, they'll remember to use a coaster every time they put down their sippy cup if it's one they made themselves.
Lego Chess Board
Using a toy to make another toy? Hell yeah. The base and checkered squares are pretty easy to construct if you follow this layout. But the best part is swapping out the heads and bodies on all your little Lego people for endless combinations of chess figures. Nothing beats a checkmate by a policeman Bart Simpson with cowboy boots.
Lego Toothbrush Holder
The Lego toothbrush holder should be an easy project your kid can finish by bedtime … just when you're beginning your nightly battle to actually get them to brush their teeth. Here's a YouTube tutorial for the holder. You're on your own with the screaming.
Lego Bookends
These train and tunnel bookends are so cool, your kid might swear off reading on a Kindle just so they can make more. Bonus points if they also make the Lego books. (Oh yeah. Look closer.)
Lego Business Card Holder
Your kid probably isn't quite ready to climb the corporate ladder and start talking paper texture and lettering style with Patrick Bateman, but this bug-eyed dude could theoretically also hold Pokemon cards (if your kid's not too busy catching them on your phone).
Lego Calendar
If you've ever looked at your family's packed shared Google Calendar and felt a panic attack rising (how the hell are you supposed to get from school to tutoring to ballet class to soccer practice in an hour?), here's a version that's a little more visually rewarding. And the best part? Every month you and the kid get to break it apart and build a new one.
This article was originally published on