You Can Control Lego's New 321-Piece Batmobile With Your Phone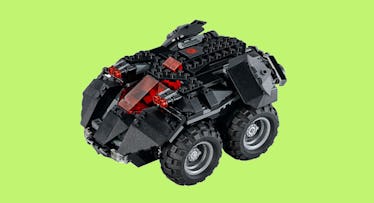 Lego's new App-Controlled Batmobile is really three toys in one. It's a buildable Lego vehicle, smartphone-controlled car, and unique piece of Batman merchandise. If your kid is a builder, driver, or Dark Knight fan, well, they'll find something to love about this set. Or love watching you with it because, c'mon, this thing's pretty awesome.
The Batmobile is not one of Lego's larger sets. It's no Hogwarts Castle, that's for sure. It's made of 321 pieces and, fully constructed, measures six-inches long, five-inches wide, and three-inches tall. Don't expect the motorcycle-inspired design of The Dark Knight Rises or the sports car aesthetics of Tim Burton's Batman films. It's far more tank, or even turtle-like, with four fattened wheels and a set of exterior plates. It's bulky.
But much of the bulk comes from the electronic components, including two motors and a Bluetooth hub that connects directly to a smartphone app. That app also works with the other sets in the "Powered Up" series of the same name (so far, two train sets). App-Controlled Batmobile is the first piece of licensed merchandise to use the technology.
After you select Batman in the app, you are presented with a choice between two different interfaces. The red one has sliders that you can use to finely control each motor while the blue uses simple buttons that set the motors to full power forwards or backwards, depending on which is pressed. Each also has buttons that perform custom movements like a 270-degree turn and a wheelie, often with a Batman sound effect that comes from the phone's speaker. Your preferred interface you prefer will be a matter of personal preference but it's nice that Lego is giving users control over how they operate the Batmobile.
The set also comes with an exclusive Batman minifigure and a handy brick separator. It's on sale now for $99.99 from the Lego store.