Lego's Wildly Detailed Back to the Future DeLorean Will Take You Back in Time
"Are you telling me you built a time machine?"
by Sam Anderson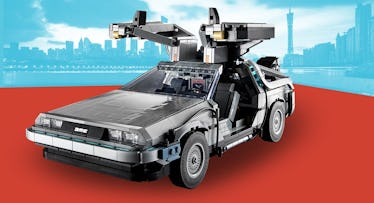 Lego has been making a push to corner the market for nostalgia with sets like the 1989 Batmobile, Nintendo Entertainment System, and the original Star Wars trilogy. It's like they're trying to cater to millennial dads or something. The trend continues — and your Lego collection grows — with maybe the most nostalgia-inducing entertainment franchise ever. Yes, you can soon get the iconic car from "Back to the Future" — in Lego form.
Lego's commemorative 3-in-1 set celebrates one of the most recognizable cinematic vehicles of all time. Putting it together will take some work as builders assemble the 1,856 pieces. But first, builders will have to decide which Time Machine to build first, because the kit includes parts to build versions of the DeLorean from all three of the Back to the Future films. Each version is loaded with features distinct to each movie from the trilogy: the first film's DeLorean sports the lighting rod hook and plutonium chamber, while the second film's iteration has fold-down tires for flight mode and clear bricks to simulate hovering, and the third film's version has whitewall tires and a hood-mounted circuit board from part III.
Once assembled, the kit's detail makes the five-hour build well worth the effort. Elements recreated from the trilogy include a light brick that illuminates the flux capacitor, printed dashboard dates, an 'OUTATIME' license plate, and even a box of Lego plutonium from the first film. The gullwing doors open, as does the trunk (where you can store the Lego hoverboard) and the hood, and a clever design tweak switches the wheels from road to flight mode with a pull of a lever on the undercarriage.
The Lego Back to the Future Time Machine will be available to take you back in time (metaphorically) on April 1st. At $170, this set is a bit of an investment for a model. But as far as time machines go, it's a bargain.