The LectroFan Kinder Is a White Noise Wonder
The small, powerful white noise machine and night light is an excellent tool for helping a baby sleep.
by Fatherly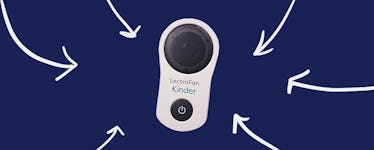 Babies need a lot of sleep, but they're pretty bad at understanding how to actually get it. (Babies, right?) It's just that they haven't mastered that specific skill set yet. It takes time! Often, they need some cues that alert them to believe that they should be asleep, cues like white noise. That's why white noise machines and apps are so popular. The market isn't just saturated with the whirring machines, it's damn near overflowing with them. Of course, not all options are created equal. For our money the LectroFan Kinder is one the best white noise machines around. Small, simple to operate, and surprisingly smart, it's easily one of our favorites.
The Kinder is about the size of, and vaguely resembles, a walkie-talkie without an antenna. It plugs into an outlet and can play more than 75 different sounds. It also doubles as a night light and casts a variety of shades and brightnesses. Operation is simple: There is one on-off button and it also connects via Bluetooth (not Wi-Fi) to the LectroFan app on your phone or tablet.
Above all else, the Kinder is a white noise machine and it doesn't disappoint. It can emit white, pink, and brown noise as well as fan whirrs, nature noises, and even a variety of lullabies. The nightlight feature is also nice, providing a variety of mellow rainbow-tinted glows for a nice sleep atmosphere. As its controlled by an app, you can control the volume and light from another room, meaning you don't have to sneak into your baby's room in the dark and clomp around in order to turn the shushing off.
The Kinder is also simple to take with you on vacations or overnight trips. It easily stows in a diaper bag or backpack and is light enough to forget about. Testers loved the portability and ease of use as well as the simplicity of the app. They also dug the variety of noises and light patterns that you can conjure up with the swipe of a finger. All said it contributed to peace of mind and helped them create a good sleep routine for their kids.
In terms of negatives, there wasn't much parents had to say. The biggest issue was price. The Kinder costs $60 Especially when you can download a few white noise apps on a phone for a dollar or two, the Kinder falls into the luxury category. But, in terms of what it provides, it's a useful luxury. And if you're looking for a white noise machine that can provide consistency and ease of use, well, it's something to sleep on.
This article was originally published on