These Vibrating GPS Insoles Ensure You'll Never Get Lost
These GPS insoles vibrate when it's time to turn.
by Dave Baldwin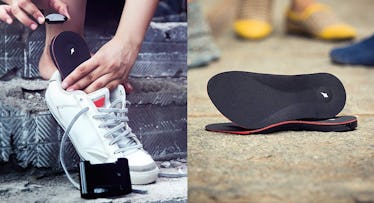 You've learned two things as a dad: First, you're on your feet a lot, and they hurt. Second, it's not at all difficult to get lost while walking around with a screaming baby strapped to your chest. Weirdly, these 'smart' insoles solve both problems ⏤ they comfort your barking dogs and tell you which direction to walk. Which is good, because as a dad you weren't going to ask for directions anyway, right?
So, the cool thing about the Lechal Smart Navigation Insoles is that they use GPS and vibratory feedback (or "haptics") to point you in the right direction. For example, if you're walking to the park and need to turn left, your left foot vibrates. Donut shop's down the street and to right (and you need a donut), your right foot buzzes. It reportedly uses different vibration patterns for different turns, although how it handles a roundabout is anybody's guess.
The whole point, though, is that you can follow the path to the playground without your kids ever knowing you had no clue how to get there. Also, it keeps you from accidentally driving that stroller into a lamppost because your face was buried in a smartphone map. The Lechal Smart Navigation Insoles sync via Bluetooth but don't need a connection to work. In fact, you can download your map/directions and navigate offline through the woods or whatnot.
In terms of specs, the Lechal Smart Navigation Insoles aren't what drive you around town. The removable pods that fit inside do that work. Which means if you don't like insoles in your kicks (they fit any shoe) because you have high arches, don't worry. The pods pop out and attach to your shoelaces. Plus, they last for 15 days on a single charge.
Finally, because it only makes sense, Lechals also double as a fitness tracker: They measure steps, calories, and distance traveled. Hit your goal for the day and your feet start to vibrate. Unfortunately, they don't give them a massage at the same time. Also, pretty cool: "A portion of each sale goes towards subsidizing a pair for someone who is visually-challenged." So not only are you doing yourself some good by tricking your kids into thinking you always know where you're going, you're actually helping somebody else in the process too. And that should feel as good as getting to where you're going without running into a lampost.