The Best L.O.L. Surprise! Dolls and Toys of 2021
So many choices. So we did the work for you.
by Donna Freydkin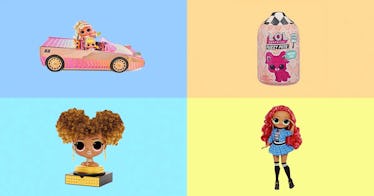 The popularity of surprise toys, the ones that have kids tearing through layers of packaging to uncover the coveted thing inside, shows no sign of waning. And the linchpin of that particular cottage industry is the phenomenon known as L.O.L. Surprise! dolls. L.O.L. Surprise toys come in many forms, be it cars or winter chalets or houses, but by and large, the most popular ones are the titular dolls.
This isn't a happy (or unhappy, whatever your take might be) accident. Dr. Richard Freed, a child and adolescent psychologist and the author of Wired Child: Reclaiming Childhood in a Digital Age, told the New York Times that "the unboxing trend capitalizes on the anticipation humans have when they want something. It's not as much about the reward as it is the excitement of the reward that can trigger the dopamine."
In other words, the dolls themselves are a means to an end. It's the excitement of unboxing them that gets kids worked up. And here's a little primer for those who have somehow snoozed through the madness: The L.O.L. toy comes wrapped in plastic and sometimes paper. Kids open it to see more wrapped bags, all of which contain surprises, ranging from miniature pets to tiaras to hat boxes. The good news, for those of us who aren't exactly LOLing about all that plastic waste that accompanies these toys: MGA Entertainment, which makes the dolls, is working on biodegradable packaging.
There's a ton of these dolls on the market, and more are released every season. So pick the ones that resonate with your kids. One thing to note: Because each package has a slew of small pieces like shoes and handbags, these dolls are best for kids 6 and up.
Every product on Fatherly is independently selected by our editors, writers, and experts. If you click a link on our site and buy something, we may earn an affiliate commission.