These Badass Lightsabers Are Ready For Real Combat. Also, They're On Sale.
Kyberlight sabers light up in 20 colors and have full 'flash and clash' sound.
by Dave Baldwin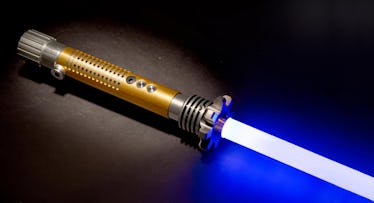 Flimsy toy lightsabers are fine for teaching young kids the ways of The Force, but older Jedis need to fight (and/or dress up their Halloween costumes) with the real thing. Or, as close to the real thing as possible. Which, unless you have access to the set of Star Wars: The Last Jedi, has to be these insane combat-ready custom lightsabers that are currently on sale.
Designed by a couple of Star Wars-obsessed engineers ⏤ and funded last year on Kickstarter ⏤ Kyberlights are 320-lumen LED sabers made for real sword fighting from an almost indestructible plastic. So, combatants (be it dad and son, or live action role play superfans) can beat the hell out of them (and unleash some pent-up Freudian rage) reenacting the final fight scene from Empire Strikes Back and it won't make a dent. In fact, the company is so confident in the strength of the blades that it offers a lifetime guarantee.
The Kyberlight sabers light up in 20 different colors and boast "flash on clash" sound effects thanks to an internal circuit board and stereo speaker. Basically, when you go all Mace Windu, it's going to look and sound like you're fighting with a real saber — well, at least in the dark. Made from aircraft-grade aluminum, the hilt (or handle) is completely customizable and Kyberlight sells a crazy number of add-on accessories, including a Blood Claw and Reys Revenge Leather Sleeve.
Now, admittedly, there are few occasions that truly warrant the use of a full-on fighting lightsaber, but playing with kids is one of them! Also, Halloween, which is fast approaching. There are currently two sales ongoing and they couldn't have come at a better time. The first is from Kyberlight directly where they're not only selling a single saber for $179 (or $20 off) but also throwing in three free accessories valued at up to $120. Each usually runs between $20 and $30. Or, if you're willing to sign up for deal site Touch of Modern, it's running a flash sale until September 15 on the Master Pack, which includes a whopping 12 accessories and regularly costs $299. They're unloading them for $255.
This article was originally published on