K'Nex's New Roller Coaster Is the Amusement Park Ride of Our Dreams
A motorized K'Nex coaster is a great toy. A motorized K'Nex coaster you can experience in virtual reality is even better.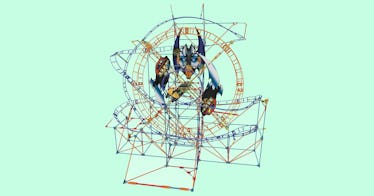 K'Nex building sets' classic rod-connector constructor that makes them perfectly suited for models of beam-based structures: suspension bridges, ball machines, Ferris wheels. The company does them all well. But K'Nex may be best suited for roller coasters, and they continue that tradition with new K'Nex Bionic Blast Roller Coaster. Not only does the set includes 809-pieces and a working car, but it also implements a virtual reality app that lets kids "ride" the coaster they just built.
Let's start with the K'Nex build itself. Assemble the 809 pieces according to the color-coded instructions and you'll end up with a two- and a half-foot-tall roller coaster. An included motor (that runs on two non-included AA batteries) powers two Ferris wheels that lift the car to the top of the track. The car starts its descent through a series of sharp turns to the bottom where it resets for another trip. (This K'Nex kit comes with instructions for an alternate build, so if your kid's favorite part is the act of building, she can tear everything down and build a completely different ride.)
The most intriguing part of this toy, however, is the K'Nex Ride It! virtual reality app. Download the app to a compatible smartphone (its Android and iOS compatible) and strap it into the included cardboard virtual reality headset. Have your kids put it on and they'll get a first-person view of what it would be like to ride in the model they just built.
The app also has the option to ride the coaster in 2D (sans headset) and build a custom digital coaster using K'Nex pieces. Your kids can customize their ride by choosing one of four different themed worlds and a variety of different options for the car, track, launching mechanism, and other elements.
The Bionic Blast coaster takes the tried-and-true K'Nex building experience and adds a new layer of technology, something that seemingly every toymaker is trying with varying degrees of success. We think that the immersive quality of VR and the fact that the experience is based on the physical model will be enough to get kids psyched to strap on the headset and go for a ride.
Every product on Fatherly is independently selected by our editors, writers, and experts. If you click a link on our site and buy something, we may earn an affiliate commission.