The Klipsch One II Is One Sexy Bluetooth Speaker That Sounds Great Too
The Klipsch One II is not your average plastic slab of a Bluetooth speaker. Not by a long shot.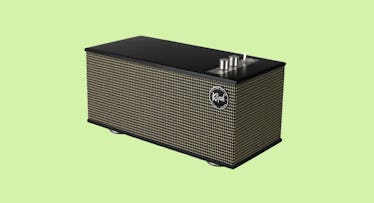 Most Bluetooth speakers look the same: a neutral metal box with a simple array of buttons that add up to an aesthetic that can be charitably called clean but for which bland is a more apt signifier. And when they diverge from this formula with more paint options or a light show, the look is less than refined. The One II from Klipsch is not most Bluetooth speakers.
The One II takes its design cues not from the monolith in 2001 but the lush, period-accurate, mid-century modern stylings. Yeah, it's the stuff that would go with your extremely classy great uncle's aesthetic. Think, walnut or matte black wood veneer, a muted metal fabric mesh grill, on the outside, and real copper knobs. Instead of plastic or aluminum or, worse, those impossible touchscreen buttons, you get real tactile knobs and an on/off switch — like they used to make them.
But unlike vintage stereos, the One II is compact. It weighs eight-and-a-half pounds and just over a foot long, six inches tall, and five inches deep. That's small enough to fit on a standard bookshelf, entertainment center, or dresser.
The audio performance quality keeps up with the looks of the thing. There are two-and-a-quarter inch full-range drivers and a four-and-a-half-inch subwoofer. The One II's 60 watts of power translates to a max output of 103 dB — not loud enough for a rave but more than powerful enough for everyday use.
The One II comes with a power cord and 3.5-mm auxiliary cable for Bluetooth-less devices, so a simple adaptor means it makes a great speaker for a vintage record player. On the other hand, its Bluetooth 4.0 connection works well with more modern sources of music; simply press and hold the source button on the top of the unit to turn on Bluetooth pairing.
Do we wish it had Buetooth 5.0, a remote control, and more wired inputs? Yes. Are the sound quality and retro aesthetics still more than enough to make the One II a drool-worthy speaker? Absolutely.
Every product on Fatherly is independently selected by our editors, writers, and experts. If you click a link on our site and buy something, we may earn an affiliate commission.
This article was originally published on