Is Kioma The Car Seat of The Future?
With a lightweight carbon fiber body and patent-pending roll bar, Kioma is the first car seat with no moving parts.
by Dave Baldwin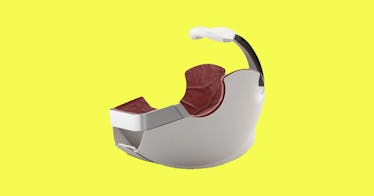 Cleaning baby poop out of a car seat under a sweltering Texas sun while wearing a wool business suit would infuriate anybody. It caused Christopher Gay to snap. After scraping his hand trying to unfasten the buckle mid-wipe, Gay grabbed the car seat and flung it across the lawn. Hilarious as the outburst may seem, his lingering question resonated: Why did car seats need to be this complicated?
"Bulky, heavy, hard to clean," says Gay, a father of three from Dallas who admits his frustration had been brewing for years. "The anger mounted as I disassembled the seat because it became evident that it wasn't even well designed from a safety perspective." Later that week, shrugging off his wife's skeptical eye rolls, he sketched out designs for a better seat. Four years later, his sleek reimagined take, the Kioma, is finally ready to hit the market.
If NASA astronauts celebrated 'Take Your Infant to Space Day', then this is the car seat that they'd strap into the rocket. A futuristic, rear-facing carbon fiber pod built for newborns to 18-month-olds, the Kioma car seat is designed for "frustration-free fatherhood," says Gay. It weighs only 5.5 pounds and is crafted from a single piece aerospace carbon fiber, which means it will reportedly be the "first and only" car seat on the market with zero moving parts. A huge selling feature when it comes to safety, Gay says.
The Kioma car seat will also be the only car seat with a built-in roll bar that works like a helmet to protect the infant from accidental drops. In the event that somebody (maybe your careless brother, maybe not) puts the car seat on the edge of the table and it tumbles off, the baby might be inverted, but they shouldn't be injured. There's also a non-skid/rocking-chair bottom to help keep the seat from slipping. The rollbar doubles as a fixed, ergonomic handle for easy carrying, and the glossy shell ⏤ which is painted with a white automotive finish ⏤ is designed to reduce chafing when it rubs up against all your leg hair.
And speaking of that sleek, egg-shaped shell, Gay explains why the Kioma car seat so damn attractive: Fibonacci curves. Look them up. It might be all logarithms and unintelligible math to the layman, but the Kioma reportedly boasts seven of these smooth spirals; combined they provide the eye a certain visual appeal. The design, the roll bar, it's all patent pending too, says Gay: "We are exceptionally sophisticated on the intellectual property side of the house."
As for the Kioma car seat's interior, it's made of 7000 series aluminum and the 1/2 to one-inch cushions are "next gen" EPE foam. They're covered with a water-resistant ripstop nylon (available in five colors), snap in and out for easy cleaning, and can be washed in the sink or tub. Pop it all out and, per Gay, "you can literally rinse the seat chassis with a garden hose in the yard." Added benefit: no pockets or crevices for stray Goldfish to get lost. The company eventually plans to sell both a sunshade and a base as accessories; although with "dual mounting solutions," Gay notes that the Kioma car seat is designed for urban transport. It's easy to bounce between cab, train, or bus and back again.
Now, the big question: safety. First, Gay is quick to point out that it's not just him making a car seat. The Dallas-based Kioma team has grown to four and their expertise runs deep. The seat has been crash-tested, both independently in third-party testing laboratories, and on the company's own crash test sled. Yes, they own their own test facility. Which means they can keep beating the hell out of it to ensure it meets National Highway Traffic Safety Administration standards.
And for potential customers concerned about buying a car seat from a new company with no track record, Gay replies: "Like sunshine in a dark room, transparency is our friend. We plan to publish our full head injury criterion (HIC) scores and chest acceleration scores. We will try to be as transparent as possible, and lead the industry."
While the Kioma is still in its final prototype stage, the seat's scheduled to hit markets early this fall. And while it won't be cheap ⏤ with three likely price points ranging from $1,000 to $2,500 ⏤ Gay's not worried. Statistics show high-end car seats are a growth market, and he's confident they'll be room for Kioma. "Like any startup, Kioma's task is to be more responsive to market needs, innovate faster, and make better products that people want."
This article was originally published on