'Kingdom Hearts III' Will Let You Fight Alongside Buzz Lightyear and Woody
The long-anticipated video game finally has a release date — and some new characters.
by James Wohr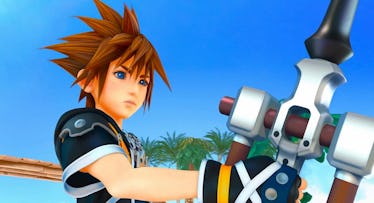 <a href="https://www.flickr.com/photos/bagogames/" target="_blank"> BagoGames </a>
Want to see Woody and Buzz Lightyear smash bad guys alongside characters from Final Fantasy and other Disney cartoons? Well, it's happening. Kingdom Hearts III, the video game that mixes characters from various Disney and Square Enix properties into the battle, is dropping next year. Square Enix announced at Disney's D23 expo that the highly anticipated third installment of the popular series will be released next year, ending the 13-year-long delay between sequels. And it adds Woody, Buzz, and other Toy Story characters into the mix.
The five-minute trailer featured familiar staples of the franchise—Sora, Donald Duck, Goofy—before revealing the new additions of Woody and Buzz. The inclusion of Toy Story marks the first and only time a Pixar property has been in a Kingdom Hearts game, despite the series having been around since the PlayStation 2 era. The trailer establishes that the toys have been invaded by the Heartless — the "bad guys," as Donald refers to them — who have come into their world. Woody enlists Sora's help to rescue them.
Along with Toy Story, recent Disney worlds like Frozen, Tangled, and Big Hero 6 will also be included in the game, although details remain sparse as to how much of a part they'll play. Seeing the list of new properties that will be incorporated into the Kingdom Hearts mythos drives home just how much the games have missed out on over the years. But the game's rampant fan base couldn't care less — they're just happy Kingdom Hearts III is finally out of development hell.
And Kingdom Hearts could break a Pixar losing streak. Despite how well they're received in theaters, Disney and Pixar characters have yet to score big in video game form. In fact, titles featuring characters from both companies normally tank. Their most recent misstep, Disney's Infinity games, cost $100 million to develop but failed to generate any buzz. Seeing as Kingdom Hearts' release date has the internet collectively doing cartwheels, it seems primed to perform pretty well. The lesson? Leave the movies/shows/merchandising to Disney and Pixar, and leave the video games to Square Enix.