Kinbuilt Is A Dude-Friendly Diaper Duffel That Looks Like A Tool Bag
Just don't be surprised if somebody at the park asks how much you charge to install cabinets.
by Dave Baldwin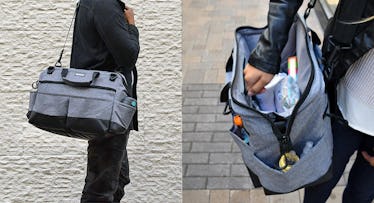 Ever been fixing something around the house, pulled a Phillips-Head out of your tool bag, and thought, "Hey wait a minute, this would make an excellent diaper bag!"? Apparently, you're not alone. Kinbuilt is exactly that: A manly diaper bag duffle inspired by the good ole fashioned toolkit.
In all fairness, it also looks like a medical bag. So don't be surprised if somebody at the playground assumes you're a doctor when their kid tumbles off the monkey bars. (That is, if they haven't already asked you how much you charge to install kitchen cabinets.) Made from a rugged water-resistant nylon (with a waterproof tarpaulin bottom), the 6-gallon bag measures 6-inches by 8.5-inches by 11-inches and rocks both a "stay-open" frame and a ridiculous number of pockets, so you'll never struggle to find those wipes and/or your stethoscope. Seriously, there are 20 pockets all told, including two insulated ones for bottles and even a quick-access compartment for your phone, keys, and sun cheaters. It's an organizer's dream.
Kinbuilt's sold in either black or gray and comes with a built-in foam changing pad, adjustable shoulder/stroller straps, and a couple of contact cards ⏤ just in case you forget it next time your kids darts off at the park and/or you're making a house call.
This article was originally published on