KidStance Pimps Out Off-The-Shelf Luxury Kid Cars
Or whatever you want. They're like 'Pimp My Ride' for pre-school vehicles.
by Dave Baldwin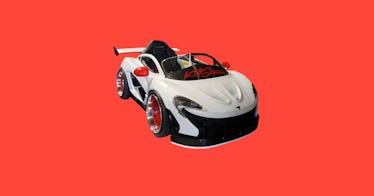 Denver Pettigrew Jr. and his wife, Vicktoria, love cars. Longtime gearheads ⏤ he's a certified mechanic who used to race 240SXs, she does her own auto maintenance ⏤ they're relationship started on a race track. So when it came time to take their 1-year-old son to his first car show, a stroller wasn't going to cut it.
"We wanted Nathaniel to feel like he was part of the event," says Vicktoria. "And we wanted to get him into cars at an early age." So they did what every clever car enthusiasts would do: They put him in a modified PowerWheels and let him drive around the joint. As you can imagine, he was a hit. And so was the kids car. What they couldn't have imagined, at least at the time, was how that tricked out toy would eventually become a booming business.
KidStance is essentially Pimp My Ride for battery-powered cars. Based in Ft. Lauderdale, the four-person operation customizes, modifies, and soups-up any ride-on vehicle you can buy online or in stores, from Barbie's Corvette, to a Chevy Silverado, to a Tesla Model S or McLaren P1. Their sweet spot is luxury cars like Lamborghini Aventadors, Audi R8s, and Porsche GT3s, but they're happy to work on any make or model a customer wants ⏤ even those dating back to the '90s so long as they can find one for sale. The company cranks out between 45 and 60 cars a year, and the current waiting list runs through September.
"Whatever you can do to a real car, you can do to a kid's car," says Vicktorkia, and she's not kidding. "The most popular work is lowering the car and changing the wheels. Those tend to be the two features most customers budget in first before adding on anything else." She notes, however, that lifting the trucks and installing air ride suspensions ⏤ so kids can control the height of the car at the push of a button ⏤ is also popular.
After that, the list of options is long: everything from new paint, lights, and high-fidelity audio, to refinished interiors, spoilers, and fender kits. KidStance can even do suicide doors, Victorkia notes, although it costs more since they're cutting them out of plastic molds. If you're on a tight budget, you can go as simple as a slick set of rims and install them yourself.
Their most elaborate build to date was a 1994 Porsche 964, and it cost almost $5,000. "Older Porsches are hard to come by and they sell for a ridiculous amount of money," says Vicktoria, who also tracks down all the cars and parts. "It's was actually a restoration project because we had to change out the motors and the wiring, buy new batteries, etc. In the end, this car had everything from working gauges, to a radio that pops out of the dash, to air ride suspension ⏤ all the bells and whistles. The interior alone cost about $800 because he wanted real suede and leather."
Working out of a shared warehouse space ⏤ they started in their dining room, mind you ⏤ it takes Denver and his crew anywhere from three days to a week to modify most cars. For bigger jobs that include audio, electrical work, or adding a remote control, they build in a week of testing time. The average project runs around $1,700 (which includes the vehicle, parts, and labor) although most start around $500. And shipping costs around $80 on the East Coast, to $300 out West, to up to $700 for overseas air freight.
As for ordering, it's pretty straightforward. "First, we find out the age of the child and make sure the toy they're choosing is compatible," says Vicktoria. "That the child's not too big or small for it." From there, you tell them exactly what modifications you want, and they send you an invoice. Half down now, the rest upon delivery, and they'll even update you along the way with pictures so you can see the progress.
Eventually, the plan is to make their own custom cars from the chassis up, rather than modifying existing vehicles, but that's down the road. For now, Denver and Vicktoria are just enjoying seeing the kids ⏤ through videos, pictures, and at shows ⏤ enjoy their work. To them, KidStance has a bigger mission than simply modifying toy Ferraris: Their goal is to help bring kids and their car-loving parents closer together. And so far, they say it's working. "It's more than just having something cool for your child," says Vicktoria, "It also creates a bonding and social experience. One that we've appreciated seeing and really look forward to."
This article was originally published on