Best Kids' Watches And Activity Trackers
by Jon Gugala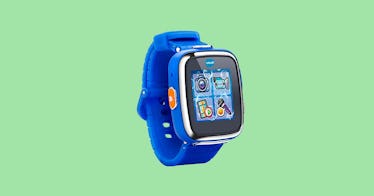 A kids' activity tracker, or even a kids' smart watch, does way more than just teach them to tell time. It encourages kids to stay active, to be more punctual, and it makes the daily torment of getting kids out the door in the morning that much easier. Because they can see for themselves when it's time to put on their shoes, grab their backpack, and leave.
Like a bike or library card, the best watch provides kids with both a sense of independence and responsibility.According to the American Academy of Pediatrics, a smartwatch should be treated as any other smart device. Meaning, parents should set time limits for kids whether they're on a tablet, or taking selfies with their watch. When your child is ready, we've got options. From the smartest kids' smartwatches to the most basic timepieces, our favorites come in all shapes, sizes, and prices. If now is the time, then our list is a good place to start.
For kids six and up, this activity tracker from the company synonymous with activity trackers has updated their popular children's model. Bump-, water-, and growth-proof (the latter thanks to an adjustable band that "grows" with them), it's a worthy successor. Of course, it includes all the metrics you've come to expect from a wearable, including reminders to move, steps and activity recording, sleep tracking, and a five-day battery life.
Sure, the Vívofit Jr 2 tracks steps, sleep, and activity. But so do other fitness trackers. What sets it apart and keeps your kid engaged are its themed games. Each watch is centered around a branded character and includes themed games. (Ours features Disney, though others like Spider-Man and Star Wars are also available.) To unlock those games, your son or daughter has to hit his or her 60 minutes of recommended daily activity, incentivizing him or her to get moving. Another bonus: A one-year battery life means you won't make that daily trip to the charger.
No more grabbing dad's phone to capture that perfect selfie. This kids' smartwatch has a camera with photo effects, video camera, voice recorder with voice-changing effects and touch screen. It's great for kids four and up. And of course, it has a calendar feature, a calculator, and lets your kid choose between 50 clock face designs.
Great for the protective parent, the GizmoWatch from Verizon is all about staying connected to your son or daughter. Thanks to its service through the provider, you can check its location, aka your child's location, remotely, as well as set up digital boundaries for your child's exploring. Should he or she stray, you'll receive an alert. Another bonus: You can program in up to 10 numbers that your child can call or message. It also counts steps, sets activity goals, and includes a seven-day battery.
Not a smartwatch but not dumb, either, the VTech Paw Patrol Chase Learning Watch "speaks" to your kiddo with the voice of Ryder just like in the cartoons. In addition to a clock, timer, stopwatch, and alarm, it also includes four learning games to entertain your child for hours.
Every product on Fatherly is independently selected by our editors, writers, and experts. If you click a link on our site and buy something, we may earn an affiliate commission.
This article was originally published on