The Best Kids Sunglasses, According to an Ophthalmologist
They'll make your kid look ridiculously cute — but that's not the reason they should wear them.
by Emily Kelleher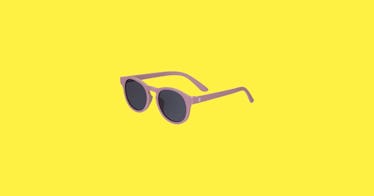 Kids sunglasses, cute as they can be, are more than just an accessory. They're right up there with generous sunscreen use and protective clothing in protecting kids from harmful ultraviolet (UV) light, the most harmful part of sunlight. In fact, Dr. Dagny Zhu, a Harvard-trained and board-certified ophthalmologist and cornea, cataract, and refractive surgeon, says that "for the most part, especially when the sun is really intense, which is usually between 10 and 2 o'clock, kids should be wearing sunglasses when they're outdoors."
Too much sun (and more specifically, exposure to UV light) can cause damage like cataracts, retinal damage, and even cancer, which, while rare, is serious and in some cases irreversible, Zhu says. And kids under the age of 10, she says, are even more susceptible, thanks to their larger pupils and clearer lenses, which allow more UV light in.
Protective measures like sun hats and umbrellas help, but because UV rays can reflect off of other surfaces and reach the eye even in shaded areas, Zhu says they can't replace sunglasses. High-quality lenses actually filter out UV light, so sunglasses provide a level of protection that's hard to beat. Polarized lenses tend to get all the attention, but Zhu says that the only rating that matters in terms of sun protection is UV400, which indicates that the lenses block light with wavelengths up to 400 nanometers, including UVA and UVB rays, the two most harmful kinds of UV light. Basically, these kinds of glasses protect the eyes from 99–100% of harmful UV rays.
If you're near the water or in a snowy area where glare will be high, polarization, which reduces glare, might be nice, but Zhu says it's not necessary for sun protection. More important is the color of the lenses. If they're too light, kids will be squinting, but too dark and their pupils will dilate, letting in more UV rays. As for kids sunglasses with colored lenses, Zhu says they're not a great idea for very young kids who are still developing their perception of colors, and may get confused viewing everything through a tint.
What to Look For in Kids Sunglasses, According to an Ophthalmologist
A UV400 rating, which indicates lenses filter out 99–100% of UV rays
Shatterproof plastic or polycarbonate lenses
Lenses that are gray, black, or brown, neither too dark or too light
For babies, consider glasses with a band that extends around the head, since their flat nose bridge makes it hard for regular sunglasses to stay on
The Best Kids Sunglasses
All of the kids and baby sunglasses on our list are rated UV400.
The Best Baby Sunglasses
Every product on Fatherly is independently selected by our editors, writers, and experts. If you click a link on our site and buy something, we may earn an affiliate commission.