The Best Hand Sanitizers for Kids
It's hard to keep kids clean. These hand sanitizers, with nice smells and cute holders, will make virus protection (a little bit) fun.
by Donna Freydkin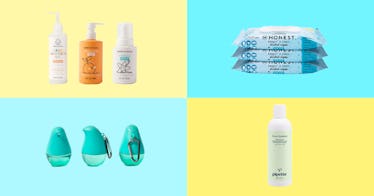 True, washing hands is still the most effective way to get rid of the germs that cause COVID-19, but for those times when running water isn't readily available, parents have to depend on kids' hand sanitizers. Whether you choose a spray, gel, mist, or wipe, the best hand sanitizers for kids kill bacteria and germs without mercy while leaving a residue-free feel in their wake. When "safe" in public is a question mark and we're all looking for a little less "natural" in our world when it come to microscopic bugs, these kid-friendly products help fill the gaps in your own vigilance. The sanitizers below contain at least 60 percent ethyl alcohol — the minimum for effective virus control, according to the CDC.
A note on safety: Kids of any age can use alcohol-based hand sanitizer, per the American Academy of Pediatrics, but adults should supervise those under age 5 to make sure they don't try to lick, drink, or swallow the sanitizer, which can lead to poisoning.
Every product on Fatherly is independently selected by our editors, writers, and experts. If you click a link on our site and buy something, we may earn an affiliate commission.