The Best Kids Glasses That You Can Buy Online
And how to find the best ones for your kid.
by Donna Freydkin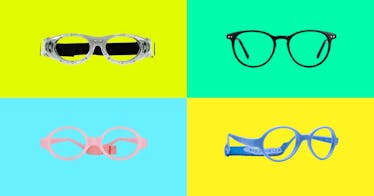 Long gone are the days when wearing glasses meant stumbling around in unwieldy, massive and massively uncool coke bottle glasses. Kids glasses have come a long way, with a variety of sleek designs and offbeat patterns to choose from. And once you have your child's prescription in hand, it's easy (and in this age of social distancing, preferable) to order kids glasses online. Kids prescription glasses run the gamut from the basic to the funky to the ultra-stylish, and if you're got a budding Serena or LeBron at home, sports glasses for kids are virtually unbreakable.
But first, you'll want to take your child to get an eye exam with an optometrist or ophthalmologist to determine if your kid is nearsighted or farsighted, or needs some other correction. And make sure to get your child's PD (pupillary distance), the distance between the centers of the pupils, which is best measured in person to get it right. The wrong PD can cause eye strain, and you'll need the PD to order glasses online.
Unless your doctor says otherwise, polycarbonate (shatter-proof) lenses are the only type of lenses you should choose because they won't shatter into tiny pieces if they break. Plus, they have built-in UV protection to block out harmful rays and come with an anti-scratch coating, so they'll last longer, per the American Association for Pediatric Ophthalmology & Strabismus.
"They should get two pairs of glasses because kids lose glasses or forget them or sit on them," says Dr. Anita Juvvadi, a pediatrician at Stanford Children's Health. "Most of all, make sure the glasses fit properly. The kid should be looking through the center of the lens at all times. As for the shape, it doesn't matter. Go ahead and get creative."
Now, the fun part: picking out the frames, which kids can try on using a virtual "fitting room" app; other brands, like Jonas Paul, offer free home try-ons. When choosing frames, make sure you take the time to have them sized properly. If glasses aren't comfortable, feel too tight, or if they slip down, kids won't wear them. The frame should be aligned correctly on your child's face. And lastly, a pro tip: Let your child pick the glasses they want (within reason). They'll be much more likely to wear them.
In terms of insurance, most sites do not accept it, so check before you buy. If you order glasses from any of the retailers on our list, with the exception of Lenscrafters, you will need to pay for anything up-front and apply to your own insurance company to be reimbursed by submitting the receipt and any corresponding paperwork. You can, however, generally use flexible spending accounts (FSA) or health savings accounts (HSA) to buy prescription eyewear or sunglasses.
The Best Glasses for Toddlers
The Best Glasses for Kids
The Best Sports Glasses for Kids
Every product on Fatherly is independently selected by our editors, writers, and experts. If you click a link on our site and buy something, we may earn an affiliate commission.
This article was originally published on