The Best Kids' Bike Seats for Safe, Fun Family Rides in 2021
You get a workout. The kid gets a taste of biking. It's a win-win.
by Donna Freydkin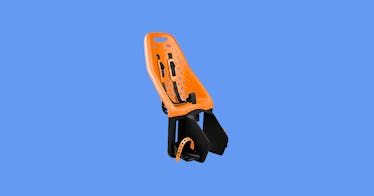 Want to instill an early love of cycling in your child, or simply bring your toddler along for the ride? You'll need a kids bike seat — the classic version of which is an attached hard-backed seat with harnesses and foot rests — that allows your kid to sit securely as you pedal. So what should you look for in a kids bike seat?
The ideal bike seat is safe, easy to install, lightweight, and comfortable for both you and your child. Experts generally recommend rear bike seats over front-mount seats: They have higher weight limits and thus can be used longer; it's easier for you to pedal and dismount from your bike with your kid behind you; and your child is less exposed to wind and other weather conditions if you're in front.
"With a bike seat, if the bike falls down, the child falls down with the bike," says Dr. Maneesha Agarwal, pediatric ER doctor and an assistant professor of pediatrics and emergency Medicine at Emory University. "It's typically better to use a rear-mounted seat."
Age is also a factor. "People put children who are too young into a bike seat. Prior to the age of 1, children do not have a lot of muscular development and they absorb bumps and shocks when riding a bike. Their bodies are not mature enough to absorb that, so bike seats and bike trailers are not a good idea before the age of 1," says Agarwal.
But above and beyond all that, says Agarwal, "Children must wear helmets, period. It's not just a matter of the child. You must wear a helmet yourself. You need to demonstrate safety."
What to Consider When Choosing a Kids Bike Seat
You can choose between a frame mount or a rack mount. While the frame-mounting option is more affordable — because you attach it using a bracket and don't need to purchase a separate rack — you'll need to make sure your particular bike is compatible. With a rack-mounted bike seat, you use a carrier adapter to attach the bike seat to a rear luggage rack.
All the seats on our list are rear-mounted and have safety harnesses and spoke guards — so your child won't get any fingers or toes caught in the wheels — and a sturdy safety buckle that little fingers can't undo mid-ride, which is a crucial safety feature.
Every product on Fatherly is independently selected by our editors, writers, and experts. If you click a link on our site and buy something, we may earn an affiliate commission.