6 Bike Trailers and Bike Seats That Let You Take the Kids Along for the Ride
Having kids doesn't mean you have to give up riding your bike.
by Berne Broudy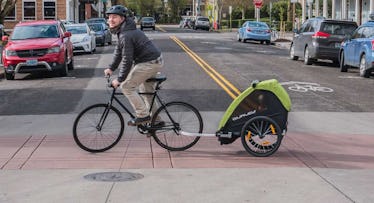 One of the most rewarding parts of being a dad is knowing that your kid always wants to be with you. One of the worst parts is that your kid always wants to be with you. We kid, we kid. But fatherhood does require you to think on your feet about how to balance your old hobbies with being a dad. If you're a tried-and-true cyclist — or just someone who enjoys a lazy summer ride — one of the best ways to combine your leisure activity and #dadlife is to equip your bike with some kid-hauling bike trailers and bike seats that enable them to ride along on your two-wheeled adventures.
RELATED: Bike Accessories Your Kid Will Love
When you're shopping for a way to roll, the first question you should ask is how you want to transport your kid. Do you want them on your bike or towed behind? That is to say, are you in the market for a child seat (a cycling version of a car seat that sits behind the rider) or a towing trailer (one that drags behind you)? And if you are towing, will your passenger be a passive rider or an active one? Some trailers are designed to contain your child inside so they can chill and enjoy the scenery, and some like trail-a-bikes are more like extendable bike frames that allow them to do some work. Finally, how many kids will you be towing?
ALSO: The Best Balance Bikes
There's a lot to consider. But once you decide, the below options — from a smooth-rolling tow-behind trailer to a recumbent attachment meant for pedal-crazy kids — offer safe, fun way to take your kids with you on the road. Most are available solo and tandem, and one even holds up to four passengers. Choose wisely and hit the bike trailer.
Best Bike Trailer For Multi-Sport Families: Croozer Kid Plus 1
One of the pimpest kid bike trailers available, the Kid Plus 1 is a bike trailer, jogger, stroller in one ⏤ all parts are included ⏤ that converts between modes with just a few clicks. When it's time to bike, the trailer kit snaps on the lockable axle mounted hitch, then to the bike with the press of a button. The Croozer is loaded with safety features for all your activities ⏤ a five-point harness, integrated sensor-activated lighting, and a low center of gravity. Raised bucket seats protect your kid from a wet bum when there's weather, while a robust suspension system dampens road vibration to keep your cargo comfortable and gives the trailer better ground contact. And with an accessory, the Kid Plus 1 can be adapted for a newborn. Bonus: all the trailer's materials are certified kid safe.
Best Bike Trailer For Kids Old Enough To Pedal: Adams Trail-a-Bike
When your kid is ready to be an active participant in your bike rides together it's time to get them out of the trailer and onto a Trail-A-Bike. Adams' single-wheel, single-speed, folding, steel tag-along lets your kid really ride. It has a handlebar, cranks, chain, bashguard, and flag as well as a low center of gravity. The whole thing attaches to your bike through a simple hitch that fits almost any seat post. That helps with stability and keeps your little one close ⏤ you don't have to worry about him or her veering off into traffic. As Trail-A-Bike cranks use a standard bike chain to power the rear wheel, your kid can pedal as much as he or she wants. And when they take a break, as long as you're still pedaling, you're both still moving. The Original Folder Compact is for kids 3 to 5, while the Original Folder One for kids ages 4 to 6. Both are rated up to 85 pounds, and weigh around 23 pounds.
Best Bike Trailer For Easy Packing: Burley Minnow
The lightest single-seat kids bike trailer we tested, the fully enclosed Minnow is simple but feature-packed. A full aluminum roll cage and five-point harness are the safest available, and loose mesh behind the rider's head accommodates a helmet. Its polyester fabric shell has darkened mesh UPF 30 windows to keep your passenger cool but the front window can be rolled up when a breeze is needed. The cushy hammock-style seat has easy access pockets for toys and snacks and there's a large storage area behind the rider for clothes, diapers, stuffed animals, and more. For car transport, wheels pop off with the push of a button, and the Minnow instantly folds flat.
Best Bike For Hauling A Big Group (Or Groceries): Madsen Bucket Bike
If you're strong enough to pedal it, then this bike can haul it. Madsen's Bucket Bike lets you carry up to four kids at a time in the permanently-mounted 40-gallon 600-pound capacity cargo bucket. The two bench seats, four harness, and four seatbelts are removable when you want to use the bucket to carry groceries or take the dog to the park. Obvioulsy, it's best for riding in generally flat areas. (Unless, that is, your thighs are up to the task.) The bucket and bike come as a unit in a range of colors.
Best Bike Trailer For Kids Who Want to Pedal Or Chill: Weehoo iGO Turbo
A pedal-able, recumbent, tow-behind trailer, the IGO Turbo gets your kids engaged in the biking adventure, instead of making them inactive passenger. At the crossroads between a trailer and trail-a-bike, the IGO Turbo is set up for the rider to nap, eat, play, and pedal without interrupting your trip. Designed by a dad who wanted to keep up his own long outings, and take his son along for the ride, meltdown-free, the Weehoo has a car seat-like harness that holds your child safely in the bucket seat, where they have access to toys, food, and drink in easy-to-reach side pockets. Panniers in the back store extra gear accessible only when you're stopped. The 27-pound single wheel trailer fits ages 2 to 9 ⏤ up to 80 pounds ⏤ and is also available in a tandem. An arcing aluminum bar connects the trailer to nearly any style seat post.
Best Baby Bike Seat For Easy Attachment: Thule Yepp Next Maxi
Want your child close, or you don't want to deal with the extra weight of a trailer? Mount the Yepp Next Maxi to your bike. It affixes to a rear rack, and hold kids aged 9 months to 6 years old who weigh up to 48.5 pounds. The shock absorbing seat has a hard outer shell with a plush padded lining and magnetic, childproof, adjustable five-point harness. Adjustable foot rests and straps keep little legs from dangling, while big vents cut into the seat's plastic shell help keep your kid cool and comfortable. The seat quickly mounts to and unmounts from your rear rack as needed. And, if you prefer a front seat, Thule makes the front mount Yepp Next Mini as well.
This article was originally published on