This Kid-Carrying Backpack Totally Replaced Our Stroller
Part child carrier, part backpack, the versatile Kelty Journey 2.0 has made kid-hauling so much simpler.
by Darryl Smoleroff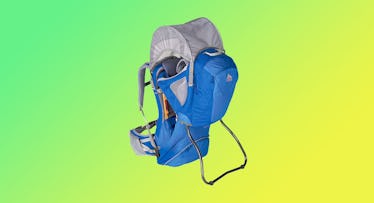 I hate strollers. They're a pain to haul around. They're inefficient to store. And every time the wheels get clogged with mud or snow my temper flares like a UFC fighter at a press conference. My two toddlers, meanwhile, hate walking. When we're out and about, they last all of four minutes before demanding to be held or carried. It makes traveling on foot with them a chore, both physically and mentally, and it's not uncommon for either their whining or my temper to derail a day's activities. Naturally, I needed to find an alternative method of toddler transportation if we were ever going to leave the house again.
Luckily, some friends lent us their Kelty Journey 2.0 child carriers for a vacation, and we happily gave them a try. Lightweight and cleverly-designed, the kid-carrier-meets-storage-backpack turned out to be exactly what we were looking for. It was surprisingly comfortable for both driver and passenger with a padded seat and shoulder straps, and, despite my standing almost a foot taller than her, my wife and I had little problem switching back and forth. Within a day of returning home from our trip, we ordered two of our own. And while they weren't necessarily cheap at $260 a pop, they were an easy purchase to justify considering they were taking the place of a stroller. Problem solved.
Designed to tote kids 16 to 40lbs, the all-in-one travel pack features a sun hood, lift handles, and a kickstand. All nice for sure, but what really puts it over the top is the water bladder for staying hydrated when I'm moving around a lot. That and the fact that carrying diapers, wipes, food, or clothes no longer necessitates twelve bags ⏤ the Kelty has storage space on the front, back, underneath, and sides.
Even better for parents living in smaller apartments or condos, as we do, it stores quite resourcefully. Although, to be honest, I keep the Kelty in my car at all times so as never to leave home without it. And that's because we don't use it for just traveling, hiking, or camping, as many do, but also for simply going out to shop, playing at the park, or walking around the block. Even if my daughters say they want to run around, I usually still bring it along as a useful storage tote to keep my arms free. Plus, you never know when they're going to change their mind and want a ride.
In fact, my kids love riding in it as much as their nerdy, operationally-focused dad loves the all-encompassing functionality it provides. It's even improved my exercise routine. On boring days, my wife and I run up and down our hallway with a kid in each pack ⏤ we're having ostrich races, of course.
Every product on Fatherly is independently selected by our editors, writers, and experts. If you click a link on our site and buy something, we may earn an affiliate commission.
This article was originally published on