KB Toys Is Planning To Reopen Some Stores By The 2018 Holiday Season
With Toys 'R' Us closing, the company that bought KB Toys plans to open stores by the holidays.
by Dave Baldwin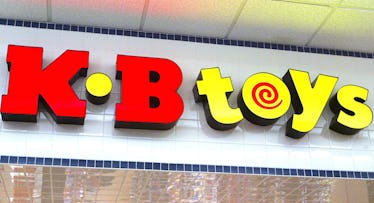 GETTY
Little known fact: After KB Toys went belly up in 2009, Toys 'R' Us stepped in to buy the brand for $2.1 million. The idea was to somehow spin off its former competitor's name and logo into, at a minimum, profitable lines of toys to sell in its own stores. In the end, it didn't work and Toys 'R' Us abandoned KB to the U.S. Trademark Office. Which is where Strategic Marks, a company that specializes in buying and reviving dead brands, picked it up last year in hopes of eventually bringing the once popular toy store back to life. Turns out, that 'eventually' is already here. Cue the irony.
As Toys 'R' Us is set to enter bankruptcy court to finalize liquidation plans, the chief executive of Strategic Marks, Ellia Kassoff, announced on LinkedIn over the weekend that KB Toys is reopening this year and boldly plans to "save the toy industry!" The company is accelerating its relaunch and hopes to have pop-up stores in malls across America by Christmas.
"My original idea for the KB brand was to relaunch it online, but everything changed when Toys 'R' Us said it would liquidate its 730 stores," Kassoff told The New York Post. The company is currently in discussions with Party City and Spencer Gifts in an attempt to negotiate possible retail locations in time for the holidays. Whether KB pop-ups would operate within these other stores, or occupy empty storefronts they currently lease, is unknown. In 2001, the company tried the holiday pop-up model inside select Sears stores. It's interesting to note that Amazon is also reportedly looking to enter the toy retail space and is eyeing the possible purchase of some Toys 'R' Us locations.
In its heyday, KB Toys specialized in "discounted and discontinued toys" and boasted over 1,200 stores nationwide. The company was started as a candy store by the Kaufman Brothers (hence the "KB") in 1922 in Pittsfield, Massachusetts. It closed its last store in 2009 following a second bankruptcy.