A 'Jurassic World: Fallen Kingdom' Interactive Game Is Coming to Amazon Alexa
The 'Choose Your Own Adventure'-style game sounds like a pretty great skill.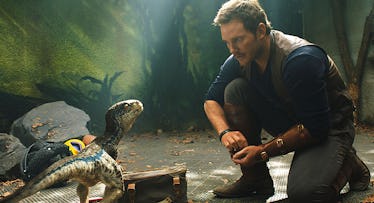 As part of the promotional push for Jurassic World: Fallen Kingdom, Universal Studios Interactive created a new audiobook for Amazon Alexa. Called Jurassic World Revealed and available on June 22, it's an Amazon Alexa skill that lets kids listen to — and make choices in — an all-new dinosaur-themed adventure. We're in.
The six-chapter story is set on Isla Nublar, the dinosaur-plagued setting of the film. Players will listen to podcaster Janet Best's dispatches and answer questions that will affect their experience. There will be an investigatory aspect to the game, as the goal is to find out what's happening on the island where a long-dormant volcano is now rumbling. We're guessing the story will involve some park programmer with a chip on his shoulder that wants to wreak havoc on the island.
The audiobook's interactive quality and branching storylines brings to mind the Choose Your Own Adventure series of books, which sold more than 250 million copies in its initial run between 1979 and 1998. The books were written in the second person and made the reader the protagonist of the story. At the end of certain pages readers were presented with different options, corresponding to different pages, as to how to proceed. As a result, the books had multiple endings based upon the sequence of choices made by the reader.
Of course, it remains to be seen if Jurassic World Revealed will have the multitude of different endings that the Choose Your Own Adventure series has, but kids, as well as fans of the books — and dinosaurs! — will likely find much to enjoy in the interactive audio experience. If it is popular among fans, look for more major motion picture-inspired games for Alexa in the future.
This article was originally published on