'Jurassic World: Fallen Kingdom': The Best Toys, Action Figures, & Lego Sets
From three-foot tall T-Rex toys that can gobble up (and spit out) action figures to R/C Ptero-Drones and foam Raptor claws.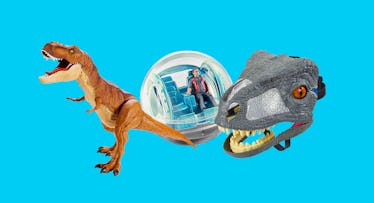 There's never a shortage of toys for dinosaur-obsessed kids, i.e. pretty much all kids. But now that Jurassic World: Fallen Kingdom is hitting theaters on June 22, there's an entirely new crop of toys to get excited about. And, as the brains behind the much anticipated sequel are aware of the phenomenon called "merchandising," the new release are exactly what we want to see stomping around our houses. There's a lot to choose from, but you don't need to be a paleontologist to see why we've unearthed these top ten selections. They're at the top of the food chain, spared no expense. Check them out.
Jurassic World: Fallen Kingdom Super Colossal T-Rex
Let's start with a guaranteed crowd pleaser — the Mattel Super Colossal T-Rex. Based on the iconic beast from the JW series, this toy is a whopping three feet tall, featuring authentic detail, movie-inspired markings, and articulated arms and legs for realistic action. The SC T-Rex also has extra-wide jaws that, when opened, can swallow mini dino action figures without even a burp. Want them back? No problem — just open up SC T-Rex's belly and watch them fall right out. It's like the miracle of birth, but much less messy.
Jurassic World Pterano-Drone
A full-function, quadcopter drone married with a realistic Pteranodon, this remote control toy performs stunts and flies up to 25 feet in the air. The Pteranodon's wings flap as it rises and falls, while an "Auto Circle" mode recreates the hunting of prey. Even better is the"Auto Land" mode, which swoops you in for the kill — or helps your kids land it without clipping the patio furniture. It charges via USB, and comes with a handful of replacement propeller parts, should it sneak up on the wrong woodpecker.
Jurassic World Chomp 'n Roar Blue Mask
Based on the breakout star of Jurassic World, Blue the velociraptor, the Chomp 'n Roar Mask features realistic skin texture, movie accurate colors, and two rows of sharp teeth. The eyes move inward so you can focus on your next meal, and the electronic jaws open to different degrees — each with its own unique roaring sound effect. A comfy strap wraps around wearers' heads, while eye and nose openings let them see and breathe.
Jurassic World Blue Velociraptor Claws
Flex, bend, twist these treacherous talons — or just go to the dino nail salon and get these beauties buffed. Each foam set comes with an interior elastic band, which is perfect for any size hand. Worn along with the Chomp 'n Roar Mask and even Chris Pratt won't be able to tell you apart from the real thing.
Jurassic World R/C Gyrosphere
One of the more innovative inclusions in the first Jurassic World movie was the gyrosphere — an American Gladiators'-esque giant motorized orb that rolled riders to and fro across the park. Mattel's R/C Gyrosphere Playset rolls in all directions, and is compatible with any 3 ¾" action figure. That means, if you've still got Flint, Quick Kick, Sgt. Slaughter and other G.I. Joes laying around, you can take them for a lovely jaunt amongst the ankylosauruses.
Jurassic World T-Rex STEM Anatomy Kit
The JW T-Rex STEM Anatomy Kit is a fully functioning T-Rex toy to begin with. But, when you insert the special DNA key, you can pop off the right side and see how the dino guts function. Watch as muscles flex, lungs pump, and joints move — all before reattaching the skin and bones to resume your playtime destruction. Just don't forget to reassemble the organs. You don't want your dog accidentally swallowing a T-Rex gallbladder.
Jurassic World: Fallen Kingdom Grab 'n Growl Indoraptor
Not much is known about the mysterious "Indoraptor", other than it's big, it's black, and it's badass. Rumored to be the new "villain" in the Jurassic World: Fallen Kingdom…uh…world, the Indoraptor is supposedly some sort of genetic hybrid, similar to the Indominus Rex, except it has some major upgrades including biological night vision (!!). The Grab 'n Growl Indoraptor features red, glowing eyes, lifelike articulation, and screech sound effects, which only gets us more excited to see this beast on the big screen.
Jurassic World LEGO Carnotaurus Gyrosphere Escape
This 577-piece Carnotaurus Gyrosphere Escape playset features the titular dino, three minifigures (Chris Pratt, Bryce Dallas Howard, and some dude named "Franklin"), a two-seater cab with a sunroof, and a detachable trailer that can launch its own Gyrosphere. Accessories include dino eggs, mini dinosaurs, and a tranquilizer gun. Plus, the set features lava, flames, and an eruption mechanism — everything a Carnotaurus needs for some delicious BBQ tourists.
Jurassic World: Fallen Kingdom Reversible Plushies
If your kids want a less frightening dinosaur to hang with, check out these plushies. The Jurassic World: Fallen Kingdom Reversible Plushies boast realistic details, such as embossed scales, pointy spikes, and scary claws. And, each one can be folded back up inside itself to reveal a reversible dinosaur egg. The two-in-one transformable toys are available in Triceratops, T. Rex, Stegosaurus, and Velociraptor species, and are perfect for cuddling when you think there might be a real dinosaur lurking out by the garage. They're sold as a set of four.
Every product on Fatherly is independently selected by our editors, writers, and experts. If you click a link on our site and buy something, we may earn an affiliate commission.
This article was originally published on