Juno My Baby Elephant Toy Plays Peek-a-Boo. Oh Yes She Does
The interactive pachyderm is a delight.
by Donna Freydkin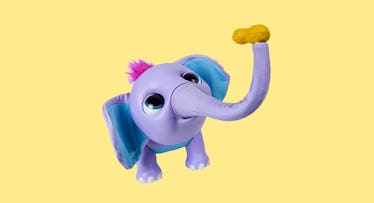 Elephants, and elephant toys, are easy for kids to love. Whether stitched together, made of silicone, or in their true form, kids naturally gravitate towards their curved trunks, kind eyes, and big, floppy ears. Equally, kids are into robot toys. Perhaps the most enchanting elephant toy I've ever come across is the Juno My Baby Elephant robotic toy. In addition to just looking adorable, the interactive, intelligent pachyderm responds to children, plays games, and has 150 sounds and words in her repertoire. It'll easily become a kid's new best friend.
Created by Spinmaster, makers of Hatchimals, Juno is exceptionally well-made. She has a moving trunk and makes trumpet noises, nibbles on her peanut, plays with her toy mouse, and gives her humans kisses. Yes, there are a lot of interactive toys. But what makes Juno stand out in the popular and very cluttered robotic toy category is her sheer cuddliness, her interactivity, and the fact that she's perfectly sized for little kids. Plus, if she gets even one more child to care about the plight of elephants, we've made some progress.
According to the Sheldrick Wildlife Trust, which rescues and fosters baby elephants, roughly 415,000 African elephants are left in the wild. They're hunted for their ivory tusks, and are otherwise at risk due to human-wildlife conflict and habitat destruction. The glorious pachyderms communicate via touch, sight, smell, and sound, are social, self-aware, and yes, have incredible memories, with mothers handing down knowledge to their offspring to help them survive.
All that is a long-winded way of saying that elephants are some of the most wondrous animals we're fortunate enough to have on our planet. And while buying a toy in no way takes the place of seeing an actual elephant in the wild, it may be a start in getting kids to appreciate their mind-blowing majesty.
As for Juno, she's wary and shy at first, but, in short time, warms up to your kids. She's sweet, engaging, and joyous. When kids feed her a peanut, she'll dance. She plays peek-a-boo. She's got tunes in her.
It's a smart, sensitive toy. And you can couple all those silly traits with a nice lesson in why elephants matter, and why it's incumbent on us to do better by them. Because kids don't want a pedantic, painful lesson in conservation. They want to get there on their own. And this elephant can help.
Juno My Baby Elephant is ideal for kids five and older. It requires four AA batteries. She comes with one mouse, one peanut, one postcard, a card for kids to fill out about her, well, progress, and a care guide. Not that kids will need help bonding with this adorable animal.
Every product on Fatherly is independently selected by our editors, writers, and experts. If you click a link on our site and buy something, we may earn an affiliate commission.
This article was originally published on