The June Oven Scans Your Food and Cooks It For You
You use the touchscreen to pick the food you're cooking, and it does the rest.
by Lexi Dwyer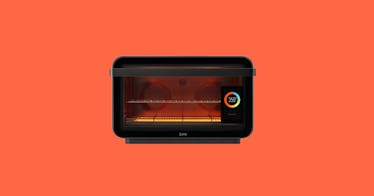 Ovens are not sexy. They are utilitarian appliances that you use to make food for your family. And then, there's the June oven. You've probably heard of the June, which came out a few years ago and was notable because it uses a camera to identify what you're cooking, and then does the cooking for you. The oven was great, but it had some issues. The WiFi connectivity was glitchy. It only IDed select foods, and it didn't have the grill or bread baking options. All that has been fixed and upgraded. And June is a winner.
So behold the newest iteration of the June. It's worth every penny. First and foremost, it's got what the brand calls Precision Heat Control, meaning that all of its six heating elements cook your food from every angle. In layman's terms, this means every piece of chicken is equally juicy, and every piece of broccoli is perfectly charred.
Because of its double airflow, it cooks your food in a fraction of the time, compared to a regular oven. You can use this as an air fryer, a grill (a feature not available on the previous model), a roaster, a slow cooker, a dehydrator, and a toaster. It reheats food in minutes, and keeps things warm as long as you need. Plus, it has a pizza option, so no more soggy dough.
And then, there's the control panel. Oh, how we love the control panel. It's intuitive. It's smart. It's so easy to use. When you put food into the oven, it uses AI to identify commonly cooked foods, and suggests a cook-program. The more foods you cook, the more foods the June will recognize.
This may sound stupid, but the control panel ensures that chicken nuggets come out perfect every time. You plop them in, and they pop up on the touchscreen. You choose the program, and go watch The Morning Show. It pings when it's done.
As for the oven itself, I used it to roast a duck. A duck! I used it to make slow-cooked lamb stew. And brownies. I took the credit, but really, it goes to June.
What really sets the June apart is its ability to completely take the guesswork out of cooking. Thanks to its heat-resistant camera, the oven can automatically detect more than 60 types of foods. Simply place something inside, close the door and choose your cooking option using the sleek touchscreen. You can either set your own plan or use the preset programs: There are more than 200 of them, which the company developed with input from professional chefs. There's no need to fumble with recipes, although June does offer plenty of their own online—some free, some require a paid subscription—if you're into that kind of thing.
It has a built-in probe thermometer that estimates when your food will be cooked through, so there's no need to slice through pink, bleeding chicken to determine its done-ness.
Now, the boring stuff. It weighs 39 pounds, so yes, it's hefty. It has s1800 watts of heating power. It fits 9×13-inch baking sheets, and dishes up to 12×16 inches. With the new June, the WiFi is seamless, and the app works works with iOS devices running version 10.0 and later, and Android devices running version 5.0 and later.
Every product on Fatherly is independently selected by our editors, writers, and experts. If you click a link on our site and buy something, we may earn an affiliate commission.
This article was originally published on