Join 'The Fatherly Podcast' for a Toy Design Special at CAMP!
Design can make childhood beautiful. But it mostly doesn't.
by Fatherly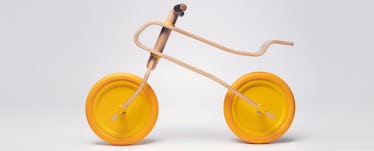 To be a parent is to be constantly assaulted by piss-poor design decisions made by the thousands of industrial designers eager to sell your child molded plastic. Almost without exception, product design for children focuses on the shiny, the bright, plastic and cheap. Need it be so? Absolutely not. There are exceptions and there are better ways to play. You just need to know where to look.
On February 17th, come join Fatherly Podcast host Joshua David Stein at CAMP for a live taping with some of the smartest people working in children's design. Our panelists include Mark Riegelman, perhaps the most brilliant and bad-ass playground designer currently working, architecture critic and The Design of Childhood author Alexandra Lange, and Ben Kaufman, founder of CAMP, the toy store so cool adults want to hang out (at the in-house Momofuku Milk Bar). The conversation will start at 3pm and meander from there — by design.
What: Fatherly Podcast Live-Recording on the State of Children's Design
Where: 110 5th Ave, New York When: February 17th, 3PM