This Jogging Stroller Transforms From Baby-Pusher to Bike-Trailer
by Dave Baldwin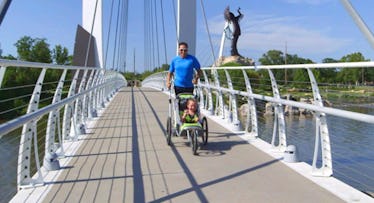 Don't let appearances fool you. While the JogAlong stroller looks a bit like the result of a three-way between a Star Trek escape pod, elliptical, and a stroller, it's actually a space-saving, shape-shifting savior. Because with the push of a few buttons, the modular baby stroller transforms from a walking stroller into an ergonomic jogging stroller or bike trailer.
At its core, the JogAlong stroller is a fixed-wheel running stroller with a big perk: the handlebars swing, elliptical-style, so you can swing your arms and maintain proper running form. It also has pneumatic tires (16-in. front/20-in. rear), reflective sidewalls, a sturdy aluminum frame, and all the standard bells and whistles expected of today's joggers. There's also a five-point safety harness, adjustable suspension, rear drum brakes (plus fixed parking brake), and a three-position wind shade with Peek-a-boo window.
That's just the beginning, though: Lock the handlebars, swap the front tire with two eight-inch castor wheels, and the JogAlong becomes a traditional stroller. There's large storage pocket below for the diaper bag and accompanying gear. Rather ride your bike than walk? Easy enough. Press two buttons and the stroller converts to bicycle trailer — no tools required. Also, the wheels pop off and it folds down to a convenient travel size if you're headed to the park.
The JogAlong measures 37 by 23 by 11-in. and weighs a beefy 28 lbs. It can hold kids from six months to 75 pounds. Just not yet. While there's still no price or sale date, sign up on their website to keep tabs on its release.
This article was originally published on