Jimu MeeBot Is A Programmable Robot That Kids Can Code Themselves
Never too early to start your own "Westworld."
by Dave Baldwin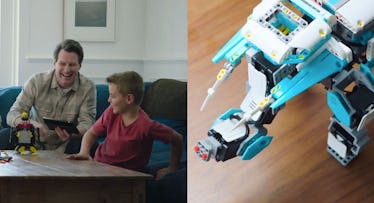 There are already a servo-load of robotic toys in the world. But, if you're one of those people who envision a dystopian future dominated entirely by robots and the people who program them (like Anthony Hopkins!), then you may want to get your kid another DIY robot kit or STEM toy. Just to be safe.
Jimu MeeBot are robotic building blocks (made by UBTECH, sold by Apple) designed to ensure your children are on the winning side of history. Yes, it teaches them the basics of robotics and valuable STEM skill, but it can also make a mechanical penguin dance. The entry-level Jimu MeeBot kit comes with 201 interlocking pieces, 6 digital servo motors, 1 central control unit, and a lithium-ion battery. All you have to do is download the app and the animated instructions will walk your kids through the building and programming process.
If a basic humanoid bot is too boring for Junior, an add-on kit includes parts for four animal characters like a "Totally Awesome T-Rex, Wild & Wacky Walrus, & Perfectly Robotic Parrot!" Or, with a little encouragement, they can get creative and build something of their own design — perhaps a robot bartender that really gets you?
Jimu MeeBot are aimed at ages 8+, but as kids gain skills they can graduate to more advanced kits including the Explorer (372 pieces/7 motors) and the Inventor, which includes 675 pieces and the plans for the 7 robot animals that'll one day roam the earth alongside Dr. Robert Ford.
This article was originally published on