Jewelbots Are Smart Friendship Bracelets That Teach Kids How To Code
Who ever said computer programmers weren't fashion-forward?
by Dave Baldwin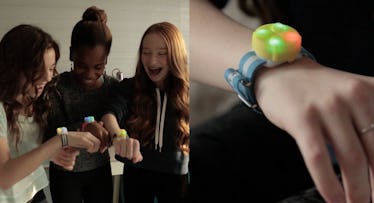 While knowing how to weave multiple strands of colorful thread might help your daughter make new friends, it probably ain't going to get her into in CalTech. Jewelbots, on the other hand, just might. They're a modern STEM toy twist on the classic friendship bracelet that teaches kids how to code and look fashionable while doing it.
As a piece of jewelry, Jewelbots are bracelets that come with three interchangeable bands and two flower charms. You can mix and match, trade with friends (their friends, not yours), and buy other styles more to your daughter's liking. Simple enough, right? Except not really, because these things aren't ordinary jewelry. Thanks to "patent pending electronics" (but no GPS tracking), the bracelets can sync over Bluetooth with up to eight other Jewelbots, allowing friends to send each other secret messages. How else would they? Paper?
They also light up for all kinds of reasons: When your daughter gets a new follower on social media — alert! When one of her friends comes in the room or gets close to her bracelet — alert! (Yes, hide-and-seek just got a whole lot easier.) All 8 friends are lying on your living room floor watching Frozen, everybody's Jewelbot lights go nuts in "rainbow party mode." (But seriously, not that rainbow party.)
You'll never understand preteen girls sending secret messages and giggling at dancing lights. That part isn't for you. But you do understand the higher purpose of turning your daughter into an expert coder. By using the smartphone app, or open source Arduino IDE (the JewelBot plugs into any laptop USB), kids ages 7 to 14 can follow the step-by-step coding challenges/tutorials, and unlock special light patterns and features. They'll also be the most fashionable student in CalTech's class of 2028.
This article was originally published on