The UA Project Rock Earbuds Weigh Less Than a Deck of Cards
And have 50 hours of battery life.
by Donna Freydkin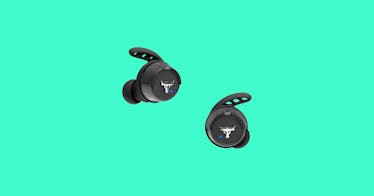 Back in the BK days (e.g. before kids), I didn't give much thought to things like clarity, sound quality, or battery life. Because if I did work from home, my house was a silent oasis of productivity. But then, COVID. And kids at home. All. The. Time. That means a need for headphones that drown out the mellifluous sounds of SpongeBob, while also letting me hear what's going on. And that's why I dig these JBL earbuds.
First off, they're mad comfortable. They have pliable, antibacterial winged tips that are easy to slip into your ear and remain locked in place. Meaning, if you go for a run, if you go for a ride, if you do a spin class, they stay put. And they stay charged for about 10 hours, with a case that holds enough charge for an additional 40 hours of playback. Rushing out the door? a 15-minute recharge with a USB-C gets you about an hour of music. Unlike some buds that are sweat-resistant, these are waterproof so you can get them as damp during a workout as you want, they won't fizzle and short out on you.
These JBLs are not active noise canceling—meaning they don't send soundwaves into your head to mask environmental noise picked up by external microphones. But they do fit snugly enough to offer passive noise canceling, which means they fit your ear canal and prevent some noise from leaking in. The best feature is what the brand calls Ambient Aware. You tune out what you don't want to hear by playing your tunes or podcast, but you're still in touch with your surroundings. So, when your kid is screaming for a snack, you're not the negligent parent who somehow (lucky you) doesn't get that particular memo. Another setting, TalkThru, lowers your music and amplifies speech so you can make that sandwich with the crusts cut off without turning off your tunes. Speaking of call, music and volume, you control them by pressing the center buttons on each earbud.
Oh and, these weigh 4.6 ounces. About the same as a deck of cards.
Plus, these have the Rock's name on them. And the dude doesn't whore out his name for anything random. His tequila is legit great. His brand is legit great. And these earbuds? Well, you can fill in the blanks.
Every product on Fatherly is independently selected by our editors, writers, and experts. If you click a link on our site and buy something, we may earn an affiliate commission.
This article was originally published on