This JBL Charge 3 Speaker Helped My Family Connect
Bonus: It also lets me listen to podcasts in shower.
by Wayne Gladstone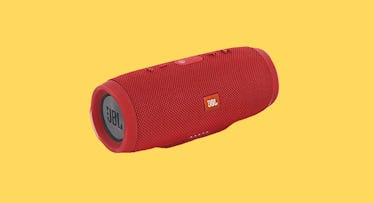 The other night my nine-year-old and I wanted to have a late night scare fest ⏤ just the two of us watching a horror movie. We snuggled up in bed to Evil Dead 2, as all fathers who don't sweat rating codes do with their young sons, and even though the laptop screen was big enough for our private viewing, it was hard to hear. Rather than split earbuds or connect to the television, though, I simply turned on my JBL Charge 3 portable speaker with the push of a button. Killing zombies with a chainsaw never sounded better.
I finally bought the modestly priced JBL Charge 3 ($130) after years of pining for nice speakers. I'd originally intended to buy something top-of-the-line shortly after moving my music collection to iTunes (yes, that's how long), but then I had kids and there was always something more important to spend money on. Fast forward. My kids are now 15, 13, and 9, and while they don't get any less expensive with age, I finally had enough of either listing to music through the tiny tin experience of a laptop or closing myself off with earbuds. Sometimes a dad just wants to blast his tunes while doing laundry naked. Preferably on days when no one else is home.
I rolled with the JBL Charge 3 for a few reasons, not least of which was the impressive clarity and depth. It will never be a substitute for some audiophile's surround-sound dream, but each side contains a pulsing subwoofer, providing a surprising amount of low end for such a tiny/lightweight unit (it weighs only two pounds). It's not loud enough to wake the neighbors, but you will hear it by the washer machine even two rooms away. It can connect to up to three devices ⏤ whether it's your laptop, phone or tablet ⏤ and the rechargeable battery lasts up to 20 hours.
But perhaps the best thing about the JBL Charge 3 is that I can drop the damn thing in the bathtub and not electrocute myself. And also, still hear my music. Not only is it portable, but it's fully waterproof which alleviates all the stress that comes with using electronics in high traffic and spill areas, or at pool parties and family barbecues. Honestly, though, my number one place to use it is in the bathroom. I listen to music or catch up on podcasts during showers, and since it's fully waterproof, there's no concern about damage from steam or wet hands.
There's also one last perk: the JBL Charge 3 helped draw my family out of our own private worlds. Instead of each of us using our phones and tablets with headphones, now we listen to music and watch movies together. It's become easier to experience things as a group, for each of us to hear what the other one hears or wants us to hear. And if somebody's choice of tunes gets too annoying, well, you can still whip out those earbuds and go back to watching Evil Dead 2.