Jaybird's Outstanding Workout Earbuds Are the Size Of a Nickel and Have a 16-Hour Battery Life
You get a perfect fit, and perfect sound.
by Ben Radding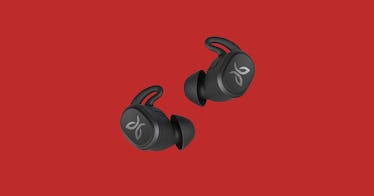 We've tried a variety of what were purported to be the best wireless workout earbuds—some good, some better than good, some excellent—but we have to say, our favorite this year is the stellar Jaybird earbuds. We'd go so far as to say that these just might be the best wireless earbuds we've ever worn, and they're certainly the best workout earbuds.
The Jaybird Vista earbuds are emblematic of the headphone industry trend on the higher end that is going the way of totally wireless buds that connect via Bluetooth, and we're all for it. No more obstructive wire to get in the way. No, it doesn't have the name recognition of the new PowerBeats, which recently went totally wireless with the PowerBeats Pro. But the Vista buds gets everything right when it comes to workout earbuds—down to the carrying case itself.
Let's start with the buds themselves. They're the least cumbersome pair we've worn, about the diameter of a nickel, and tailor-made to fit perfectly inside your ear without too much sticking out. They come with attachable, rubber mini grips for inside your ear in small, medium, and large, so you can adjust as needed. The fit is snug: when these buds are in tight, the noise around you disappears. They're not noise-cancelling, technically, but they may as well be. For better or worse, you won't be able to hear anything with your music going.
The Vista buds purport to have an excellent 16 hours of battery life as long as they're charged. We've never had an issue with battery at all—they seem like they could go for hours, even at full volume. The charging case itself is about the size of a pack of gum, fitting easily into any pocket or bag. The buds charge via an included USB-C cable; as they charge, a small LED on the outside of the case will brighten to let you know it's on its way.
They block out the world, have great battery life, and the charging case is simple and small. So what makes them particularly useful for working out? We'd have to say the fit, for one, which again is snug without causing a headache, and the industry-leading IPX7 waterproof and sweatproof rating, which means these buds are all but impenetrable to the elements. It makes all the difference—especially if you work out a lot—to know your buds are always safe from your torrents of sweat.
It all comes together with the accompanying Jaybird app. With the app, after you pair your buds, you can essentially control how they sound—adjust the volume, equalization (or EQ)—as well as find them if they're lost, customize your button controls, and much more. It even has a how-to guide for setup and fitting your buds. We're huge fans of the app, which is comprehensive without being overwhelming, polished without being over-designed. It's beyond simple to use, and we appreciate the attention to a user-friendly experience, even in a workout headphones' app.
The Jaybird Vista earbuds really are the complete package when it comes to workout headphones. They won't budge on a run or a deadlift PR. They have battery life for days. And their app is well-designed and easy to use. When it comes to the overwhelming options of workout headphones, we know where we land. We won't hear anything else.
Every product on Fatherly is independently selected by our editors, writers, and experts. If you click a link on our site and buy something, we may earn an affiliate commission.