It's Your Childhood on the Phone — You Going to Get That?
The Chatter toy you dragged around as a kid, reimagined for the WFH set.
by Sal Vaglica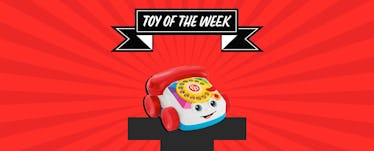 The Chatter Telephone has been a staple in toy chests across the country since Fisher-Price released it back in the early 1960s. The 2021 version still includes the wheels that control the eyes as it rolls along, but this bit of plastic is more nostalgia than a tool designed to encourage toddlers to mimic parents talking on the phone. This Chatter doesn't even have the pull string. But what it does have is the ability to pair, through Bluetooth, to your smartphone. Yes, that means you can make, and answer, phone calls through the red headset using that sweet rotary action of yore. And by yore, we mean the 1980s.
Once you pair the Chatter to an iOS or Android phone, pick up the receiver, and start dialing away. With each whirl of the dial, a male voice repeats the number as you call into audio-only Zoom meetings. Next to the pound sign is a button for the speakerphone. If your smartphone receives a call, you can answer it on Chatter by picking up the headset. The internal battery lasts for about nine hours before needing a recharge with an included USB-C cable.
Every product on Fatherly is independently selected by our editors, writers, and experts. If you click a link on our site and buy something, we may earn an affiliate commission.