Is Anyone Learning Stick Anymore?
Driving stick used to be a right of passage for all teenagers. No longer.
by Lauren Steele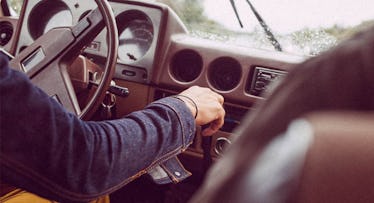 Learning to drive stick is a right of passage. The lurching stalls, grinding gears, and clutch-pumping legs are an important reminder that driving a car is a physical experience. There's a powerful — sometimes touchy — engine behind that accelerator and you must learn to respect it.
Except most Americans today no longer learn that lesson. By the latest count, only 18 percent of Americans said that they know how to drive a stick shift. For those in the 18 percent, it's a worrisome stat, but it's not all that surprising. Automakers are making fewer models of vehicles that you can buy off the lot with the stick, with only about five percent of vehicles sold in the U.S. coming with manual transmissions.
"Driving an automatic is easier, and finding an automatic car is so easy," says Andrea Stavast, owner of Westwood Driving School in Los Angeles, who sees more and more families coming into her school to learn to drive stick. "One benefit is you can drive in most foreign countries without a problem — so most people take lessons to get ready for a trip to a foreign country," she says. "And some people learn because they want to splurge on an expensive sports car."
If you're not looking to buy a sports car or bum around southern France, learning to drive stick is a non-essential skill — but it's still fun. "It takes a certain kind of person with coordination and visualization," says Stavast. And like that SCUBA certification or motorcycle license, it's a skill you might not use all the time, but can take pride in. You'll become part of a small club or people that still know how to really drive a car.
After taking the course, if you're looking to add a manual transmission car to your collection before they disappear off of lots completely, Joe Stocksdale of Autoblog compiled a list of every manual car you can currently find on the market. Have at it.
Audi A4 (Quattro models only), A5 Coupe (All models)
BMW 230i Coupe (RWD only), M240i (RWD only), 320i Sedan (RWD only),330i Sedan (RWD only), 340i Sedan, 430i Coupe (RWD only), 440i Coupe, 430i Gran Coupe (RWD only), M2, M3, M4, M6 Gran Coupe
Cadillac ATS (I4 RWD only), ATS-V
Chevrolet Camaro, Colorado (Base I4 RWD only), Corvette, Cruze (2018, all trims/engines except Premier), Sonic, Spark
Dodge Challenger (V8 only, except Demon)
Fiat 124 Spider, 500, 500X (Pop FWD only)
Ford Fiesta (All trims/engines except Titanium), Focus sedan (S, SE I3), Focus Hatchback (ST, RS), Mustang
Genesis G70 (I4 RWD only)
Honda Accord (Sport 1.5L/2.0L), Civic sedan/coupe (LX, EX-T, Si), Civic hatchback (LX, Sport, Type R), Fit, HR-V (LX FWD, EX FWD)
Hyundai Accent (SE), Elantra (SE, Sport), Elantra GT, Veloster (2018, Base, Turbo R-Spec, Turbo), Veloster (2019, Base, Turbo R-Spec, Turbo Ultimate, N)
Jaguar F-Type (340- and 380-hp V6 RWD only)
Jeep Compass (Sport, Latitude, all drivetrains), Renegade (Sport, Latitude, Altitude, all drivetrains), Wrangler JK, Wrangler JL (V6)
Kia Forte (LX only), Forte5 (SX only), Rio (LX only), Soul (Base only)
Lotus Evora
Mazda3, Mazda6 (Sport only), MX-5 Miata
Mini Cooper Clubman, Cooper Countryman (All trims/powertrains except S FWD and PHEV), Cooper Hardtop, Cooper Convertible
Mitsubishi Mirage (ES only), Outlander Sport (ES only)
Nissan 370Z, Frontier (King Cab: S RWD, SV RWD; Crew Cab: S RWD, SV 4WD, Pro-4X), Sentra (S, Nismo Audi A4 (Quattro models only), A5 Coupe (All models)
Porsche 718 Boxster, 718 Cayman, 911 (except Turbo S Exclusive, GT3 RS, GT2 RS)
Subaru BRZ, Crosstrek (Base and Premium), Impreza (Base only), Forester (2018, Base 2.5L and Premium 2.5L only), WRX/STI
Toyota 86, Corolla sedan (SE only), Corolla iM/hatchback, Tacoma (TRD Sport: Access Cab, Double Cab; TRD Off-Road: Double Cab; TRD Pro), iA/sedan, hatchback (L 3-door only)
Volkswagen Golf (S, SE, S SportWagen, S 4Motion SportWagen, S Alltrack, SE Alltrack, all GTI, all Golf R), Jetta (2018, 1.4L only), GLI (2018),(2019, S only)
This article was originally published on