This Interactive Calendar for Kids Helps Them Grasp the Concept of Time
It will still be an abstraction, but they'll at least be able to figure out when Pajama Day is.
by Donna Freydkin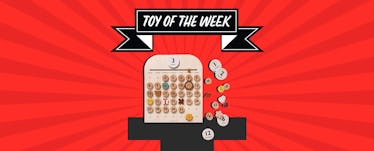 Kids don't really begin to understand the concept of time until they're in preschool or so. That means you can look forward to years — and we do mean years — of answering the same questions over and over and over again: How many more days until a birthday? Or Christmas? Or that long-promised junk food-laden road trip to see Grandma? Explaining the concept of time — that 24 hours equals one day and that seven days make up a week — is as ephemeral as it is vexing. And that's where an interactive calendar for kids can really help, making the past, present, and future a tangible thing that kids can track and chart.
Especially during times of turmoil — like basically all of 2020 and much of 2021 — or transition (moving between co-parents' homes, for example), having a routine and knowing what comes next can give kids a sense of security and comfort. Predictable things are good, and consistency is king. To that end, this beautiful wood calendar can help preschoolers feel like they have some semblance of control over their environment, and understand what happens during a specific week or month. They can count and figure out, for themselves, just how many days stand between them and a specific milestone. Oh, and as a bonus, it makes math and counting actually a fun hands-on activity.
Moon Picnic's beechwood calendar is made up of magnetic discs that kids position on days of the week. It comes with 55 movable discs, including 12 month discs and 31 day coins. And of course, there are themed discs to mark the biggies: The day they finally get to open gifts, or switch homes, or finally get to go to the beach.
Will this end the continuous refrain of "how much longer until…"? Not likely. But a handsome heirloom-quality educational toy like this one will at least serve as a great distraction.
Every product on Fatherly is independently selected by our editors, writers, and experts. If you click a link on our site and buy something, we may earn an affiliate commission.
This article was originally published on