5 Giant Inflatable Water Slides and Water Parks to Set Up in Your Yard
Can't make it to the water park this summer? Blow up your own.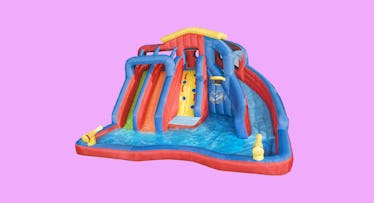 It used to be that kids who wanted some water fun in a backyard had to settle for a garden hose or water gun. While there's nothing wrong with those old-classics, there's now now a barrage of affordable, inflatable water slides online to transform your backyard a slippy, slide-y paradise for the kids. These inflatable water slides are made of heavy-duty vinyl — no flimsy beach ball materials here. They're essentially hybrid bouncy castles, slip 'n slides, and kiddie pools, often with a water cannon or two thrown in for good measure. And don't worry about bursting your lungs inflating them up: all of these slides come with blowers that pump them quickly and keep them inflated as long as you need. Here are five well-reviewed, and genuinely ridiculous, giant inflatable water slides and water parks for kids that will turn your backyard into the best water park in the neighborhood.
This slide is only five and a half feet tall and 12 feet long, making it the smallest on this list. There's a nice cresting wave design at the top of the slide along and support that goes across the top of the slide so kids can swing and bounce themselves down the slide and into the pool at the bottom. It's recommended for kids up to 75 pounds.
With a basketball hoop, water polo goal, and a volleyball net, kids who love sports will love this one. It has two sprayers — one cascading down the slide, the other drenching kids in the pool — and inflates in just three minutes.
The most fun part of this slide, which is about 14.5 feet long and 9.5 feet wide, is the "fill 'n spill" water bucket. Instead of spraying kids continuously, a nozzle at the end of the slide gradually fills a bucket until it becomes too heavy and flips over. Odds are that your kids — and, face it, you — will be hanging out waiting for the deluge from the bucket.
The enclosed area can be accessed through a tunnel that runs under the slide. Dual sprayers allow kids to spray each other as they play, and will add an extra dimension to water fights as they break out. And speaking of dimensions, this thing is 20 feet long and 12 feet wide. That's big enough for six kids at a time.
This behemoth is 16 feet on each side and, at 10 feet high, the tallest apparatus on this list. It features two straight slides—perfect for side-by-side races — as well as one longer, curved slide. There are sprayers positioned at the bottom of each slide and — because why not? — there's a built-in inflatable basketball hoop as well.
Every product on Fatherly is independently selected by our editors, writers, and experts. If you click a link on our site and buy something, we may earn an affiliate commission.
This article was originally published on